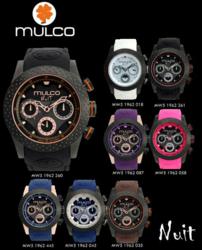 "Mulco is delighted to join the world's preeminent watch fair," said Nicole Minionis, Marketing & Strategic Sales Manager. "We look forward to sharing our newest luxury timepiece with lovers of fine watches from across the globe."
New York, New York (PRWEB) March 20, 2013
Setting the time and the tone for the exclusive event, Mulco Watches Inc. is pleased to announce its participation at BASELWORLD 2013 in Basel, Switzerland. The distinguished watch firm will present its newest innovative and trendsetting Swiss movement timepieces from its latest collections. The preeminent BASELWORLD 2013 showcases the finest in the watch, jewelry and precious-stone industries worldwide.
Participating in this year's BASELWORLD is yet another milestone for the reinvigorated brand that has undergone an electrifying refresh since being acquired by a group of top entrepreneurs with grand visions for Mulco in 2006. The new collections will be featured at Booth C75 in Hall 2.0 from April 25 to May 2. Mulco Watches will also host a press conference on Friday, April 26 at 4 p.m. at the booth.
"As a company to watch in the world of fine watches and jewelry, Mulco is delighted to join the world's preeminent watch fair this year," said Nicole Minionis, Marketing & Strategic Sales Manager. "We look forward to sharing our newest luxury timepieces with lovers of fine watches from across the globe."
Along with its many collections, Mulco Watches will focus on its newest entries into the timepiece market: the Nuit Krypton, Nuit Mia and Bluemarine Glass.
The Nuit Krypton collection embodies the futuristic design, elegance and artistry Mulco Watches have come to represent. The band colors are available in several hues including beige, blue, ice, pink and white – with the color emphasis focused on the silicone wristbands. The nine models are each 46-millimeters and retail for $475.
The Nuit Mia collection's futuristic design perfectly suits both men and women seeking stylish elegance and eclecticism. Retailing at $395, the nine-piece collection boasts water resistant 46-millimeter timepieces. The silicone watches are available in nine gorgeous colors including aqua, pink, purple, black and white.
Innovative and unique, the Bluemarine Glass collection features vibrant colors and textures designed to make a statement. These fine Swiss movement pieces are hand-assembled and feature two different looks to choose from: One option features seven beautiful pieces, complemented by colorful dials and band hues that include pink, aqua, white, black and brown, while the other option, with six models, is available in an all-black dial with silicone bands in black, brown and blue or vivacious shades like orange, yellow and neon green. All 13 pieces within the collection are 47 millimeters and retail for $395.
In addition to its new offerings, Mulco Watches will show all 11 of its fine watch collections at BASELWORLD.
About Mulco Watches
Mulco Watches Inc. crafts innovative and unique timepieces with vibrant colors and original textures designed to create a new, fresh statement in the luxury watch industry. However, trendsetting is just the beginning. The fine Swiss movement watches are also all hand-assembled for stunning perfection. Mulco designers and technicians carefully work with fine materials including aluminum, silicone, stainless steel and ceramic to create quality, state-of-the-art masterpieces.
The fast-growing Mulco Watches was established in Switzerland in 1958 and later acquired in 2006 by visionary entrepreneurs with extensive experience in the watch industry. Mulco was subsequently re-launched, revealing a brand-new look with much edgier sophistication, setting the pace for new fashion trends. Style, elegance and quality are quintessential hallmarks for the firm's 11 unique collections.
Media Contact:
Cece Feinberg Public Relations
Priscilla Burgos / Michelle Marcos
T (212) 939-7265