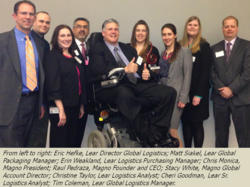 To be recognized as a top supplier by Lear Corporation is an incredible honor.
Miami, FL (PRWEB) March 20, 2013
Magno International, LP today announced it has been chosen as the "Diversity Supplier of the Year" by Lear Corporation for performance excellence in logistics and transportation in 2012. Lear, a leading global supplier of automotive seating and electrical power management systems, describes their "Supplier of the Year" Awards as the highest honor Lear can bestow upon a supplier. Magno was recognized for demonstrating excellence in quality, innovation, delivery, service and competitiveness during 2012.
Matt Simoncini, Lear's President and Chief Executive Officer, commented: "The suppliers we recognized performed at the highest levels during 2012, providing the best possible cost, quality and value to our customers requires the hard work of thousands of Lear employees working together with all of our suppliers. We truly appreciate the tremendous support we receive from our supplier partners, and I would like to especially thank this year's award winners."
Magno handles air and ocean imports from Asia and Europe and premium transportation requirements for Lear's plants in Apodaca and Saltillo, Mexico. This business is managed through Magno's control tower in Brownstown, MI with dedicated account management personnel in Brownstown, MI and Monterrey, MX. Magno President Chris Monica commented, "To be recognized as a top supplier by Lear Corporation is an incredible honor. Lear is one of the preeminent tier one automotive suppliers for seating and electrical power management distribution systems in the automotive industry and we couldn't be prouder of this accomplishment. I want to thank Lear for this recognition and recognize the Lear teams in Southfield, Apodaca and Saltillo for their commitment to collaboration and teamwork which is an essential element of our success."
About Magno International, LP
Magno International, LP is a Minority Business Enterprise specializing in transportation and logistics. Magno is an NMSDC certified CVE-verified Veteran-Owned and a self-Certified disabled-owned Business with key alliances that help strengthen buying power, improve scope and allow them to scale quickly Magno offers a variety of integrated transportation and logistics services including local, national and global air and ocean freight forwarding, time-definite LTL, full truckload and customs brokerage. We also offer value added logistics solutions in warehousing, order management, fulfillment and returns management. Magno provide a highly personalized service and a flat organizational structure that allows us to deliver flexible and customized solutions quickly. More than anything, we are committed to delivering the best, most efficient solutions at the lowest delivered cost.