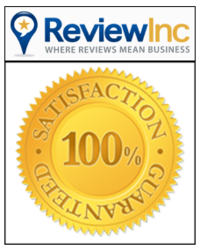 "We're excited to announce this remarkable milestone, as well as introduce the launch of a number of new features to our platform," ReviewInc Chief Operating Officer Henri Isenberg said
Los Angeles, CA (PRWEB) March 19, 2013
Review management software company, ReviewInc (http://www.reviewinc.com), announced today that it is the first platform to support more than 90 unique review sites. As the industry leader in online reviews for businesses and professionals, ReviewInc now monitors and promotes sharing to 93 review sites worldwide.
In the last six months ReviewInc has nearly doubled its reach to review sites, including Yelp, Google+, Bing Local, Yahoo Local, Foursquare, Avvo and many more.
"We're excited to announce this remarkable milestone, as well as introduce the launch of a number of new features to our platform," ReviewInc Chief Operating Officer Henri Isenberg said. "We're proud to give customers and companies even more opportunities to have reviews promoted online."
ReviewInc's additional product features include a streamlined review sharing process for social media connections, and an email marketing platform that effectively automates outreach to customers. This includes an "Ask for a Review" email template that allows merchants to encourage their customers to share their experiences on the most popular review sites.
ReviewInc has also introduced a host of website components to enhance the collection and sharing of reviews, including buttons, embedded forms, testimonials, widgets and a QR code generator to help merchants customize marketing materials and embedded review forms. Merchants can now add items such as a "review newsfeed" on their site in minutes.
About ReviewInc
Started as a service in 2011, ReviewInc was created by Ron Laughton, Bernard May, Gary Puterman and Henri Isenberg, all experienced technology entrepreneurs and leaders in software and online marketing. The company was founded to solve the emerging market of online reviews for local merchants, which has revolutionized the way customers find local business on the web.
ReviewInc is designed to make the online review process transparent and effective for merchants as well as consumers. The platform helps merchants reach out to customers as well as monitor their online reviews on the sites that matter most to them. For customers, ReviewInc makes it easy to submit reviews for the businesses they love and want to see succeed.
To learn more about ReviewInc, visit http://www.reviewinc.com/ or call 877.973.843 (877-9REVIEW).