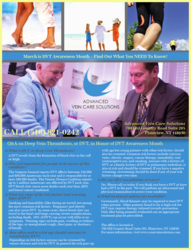 ...to further help Americans prevent the serious vein disorder.
Plainview, NY (PRWEB) March 19, 2013
Advanced Vein Care Solutions is joining the movement to decrease fatalities and life-altering illnesses due to deep vein thrombosis (DVT) throughout the month of March, which is DVT awareness month.
DVT is a vascular disorder in which a blood clot develops deep in veins of the legs. If these blood clots dislodge, they can move to the lungs, where they have the potential to bring about a pulmonary embolism. Treatment for pulmonary embolism must be obtained without delay because without medical intervention the condition can be fatal.
Advanced Vein Care Solutions, a respected vein treatment clinic in Plainview, New York, is launching an educational initiative to elevate public awareness about this life-threatening vascular condition. Leading the campaign is Dr. Andrew Rochman, who will use Facebook and Twitter to spread the word about DVT. In addition to the social media efforts Dr. Rochman has created an informative video about deep vein thrombosis to further help Americans prevent the serious vein disorder.
All people should learn about DVT and seek immediate medical care if the symptoms and danger signs are present.
For more information, visit:

Varicose Vein Treatment Options
Patients with the common vein conditions, varicose veins and spider veins, can find expert care and effective treatment at Advanced Vein Care Solutions. The highly skilled and proficient team of vein specialists, clinicians, and health professionals first assesses each patient's varicose vein condition.
Depending on the extent of the vein disorder, doctors offer a range of treatment options to eliminate varicose veins. Treatments include the use of compression stockings, as well as advanced procedures like phlebectomy, sclerotherapy, and endovenous laser ablation. Vein experts use minimally invasive therapies to reduce recovery times and provide optimal results. Varicose vein patients can also find useful educational information about vein symptoms and treatments on the center's website and blog.
About Advanced Vein Care Solutions
Advanced Vein Care Solutions is the Plainview, New York region's foremost provider for vein care and vein disease. The vein treatment center is committed to providing patients with comprehensive, personalized health care for vein disease. Special areas of expertise include varicose veins, spider veins, and more complex circulatory conditions. The center's vein specialists are highly skilled and experienced in diagnosing and treating the full range of vein disorders. Doctors at Advanced Vein Care Solutions realize the importance of staying on the leading edge of new research, technology and procedures. Under the direction of Dr. Andrew Rochman, the center sets the standard for venous disease care in Plainview, NY.
Advanced Vein Care Solutions
Tel. 516-821-0242