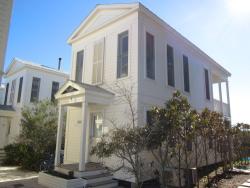 A Simple, Beautiful Life.
Seaside, Florida (PRWEB) March 20, 2013
This spring, Seaside, Florida will continue to host an outdoor movie series on Wednesday and Friday nights. Visitors can bring blankets or lawn chairs and sit outside under the stars to watch classic movies such as Singin' in the Rain, The Goonies, and Casablanca. Movies will be shown at 7:00 PM on Wednesdays at Seaside Beach and Fridays at the Seaside Amphitheatre beginning Wednesday, March 13th. Families are welcome as the featured movies will be kid-friendly.
The Seaside Repertory Theatre is Northwest Florida's premier professional theatre company. For over 10 years, the "REP" has produced seasonal shows performed by professional actors from around the country. These talented professionals and dedicated volunteers work together to entertain over 25,000 people each year. Beginning March 11th, weekly Camp Showtime sessions will take place giving kids the opportunity to learn performance, improv and story-telling skills. For adults, the theatre is a local hotspot featuring a number of plays, performances, and musicals throughout the season.
Bud & Alley's waterfront restaurant and rooftop bar will kick off their Spring Music Series with live entertainment on Thursday, April 4th starting with Mary Gauthier. This will be Gauthier's first 30-A appearance since last year's 30-A Songwriters Festival. She will be performing with Scott Nolan and Joanna Miller. Hollie Williams, Willie Sugarcapps, and Jennifer Steele are also among the musicians that will be performing this spring at Bud & Alley's.
Seaside's official motto is "A Simple, Beautiful Life" and is widely known for being the perfect place to create lasting memories. In this New Urbanism town, it is easy to get lost site seeing among the beaches, art walks, parks, and charming cottages. The area also boasts the finest coastal cuisine on 30-A with a variety of restaurants. Seaside is well-known for attracting loyal vacationers year after year to its cottage rentals. Families will find the close proximity of restaurants and shops an advantage over traditional destinations. Visitors looking to unwind enjoy the relaxed atmosphere and profound sense of community that Seaside offers.