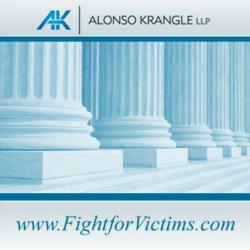 Alonso Krangle LLP - Fighting for victims of defective DePuy ASR Metal On Metal Hip Implants. To discuss a potential defective hip implant claim, contact Alonso Krangle LLP at 1-800-403-619
Melville, NY (PRWEB) March 19, 2013
Alonso Krangle LLP, a law firm focused on fighting for individuals affected by the DePuy ASR hip replacement recall, is providing comprehensive, updated information regarding the thousands of DePuy ASR hip implant lawsuits currently pending in state and federal courts throughout the nation. According to the Firm, 2013 is shaping up to be a landmark year for the DePuy ASR hip replacement recall litigation, as numerous DePuy ASR hip implant lawsuits are scheduled to go to trial. In fact, the nation's first such proceeding, a DePuy ASR hip trial in Los Angeles, recently concluded with an $8.3 million verdict for the Plaintiff. (Kransky v. DePuy, BC456086, California Superior Court, Los Angeles County) Testimony is currently being heard in a DePuy ASR hip trial in Illinois, the second in the nation. (Strum v. DePuy, 2011-L-9352, Circuit Court of Cook County)
Court records indicate that the litigation will really gain momentum later this spring, when the first of thousands of DePuy ASR hip replacement recall lawsuits pending in a federal multidistrict litigation begin to go to trial. (MDL No. 2197) A DePuy ASR hip trial in Maryland that was supposed to begin in January was cancelled on the day of opening arguments, after the Plaintiff decided to re-file in the federal proceeding. (Jackson v. DePuy Orthopaedics Inc., CAL 10- 32147, Circuit Court, Prince George's County, Maryland)
The DePuy ASR Hip Replacement Recall
The DePuy ASR hip replacement recall was announced in August 2010 after data revealed the hips were failing in 12-13% of patients within just five years. According to a recent report from Bloomberg News, some estimates now indicate the five-year failure rate could be closer to 40%. According to the DePuy ASR hip recall notice, some 93,000 of the metal-on-metal hips were sold prior to August 2010. The recall involved both the ASR Hip Resurfacing System and ASR Acetabular System; however, only the ASR Acetabular System was sold in the U.S.
[asrrecall.depuy.com/depuy-asr-recall-usen]
[bloomberg.com/news/2013-02-25/j-j-expert-grilled-on-calculation-of-hip-placement-device-1-.html]
DePuy ASR Hip Replacement Symptoms & Complications
DePuy ASR hip replacement lawsuits allege many recipients of the recalled device have been forced to undergo painful revision surgery after suffering serious complications related to the failing hips. Alonso Krangle LLP is offering free consultations to individuals suffering from any of these DePuy ASR hip replacement symptoms and complications:
· Swelling or pain in the effected hip or surrounding areas
· Difficulty walking or pain in the hip while walking
· Grinding, popping or clicking noises in the hip area
· Inflammation or infection in the affected hip
· Dislocation or improper positioning of the implant
· Loosening of implant when the device is not attached in the correct position to thebone
· Dislocation of the implant components
· Bone fractures at the hip
· Metal poisoning/metallosis a reaction to metal debris shed when components rub together
DePuy ASR Hip Recall FDA Response
The U.S. Food & Drug Administration (FDA) launched a safety review of metal-on-metal hips like the ASR in February 2011. The DePuy ASR and other metal hips all came to market under an FDA program called 510(k) that does not require human testing. Last July, an FDA advisory panel concluded that there was no reason for the continued use of all-metal hips, in light of their risks. In January, the FDA advised patients with such implants to undergo metal ion testing and imaging screening if they were experiencing symptoms of a failing hip implant. The agency also proposed a new rule that would reclassify metal-on-metal hips as high-risk medical devices, which would require they undergo human tests before coming on the market.
[huffingtonpost.com/2012/06/29/metal-on-metal-hip-implants-fda_n_1637466.html]
[fda.gov/MedicalDevices/Safety/AlertsandNotices/ucm335775.htm]
DePuy ASR Settlement News
Last year, six plaintiffs in a Nevada lawsuit were able to reach a DePuy ASR settlement with Johnson & Johnson for a total of $600,000. [Rundle v. DePuy Orthopaedics Inc., A-11-636272, Clark County District Court] However, according to a Bloomberg report published at the time, the figure was considered at the low end of what the company could be expected to pay. Following the Los Angeles verdict, there was speculation Johnson & Johnson could seek a global DePuy ASR settlement in 2013. In late 2012, the company did offer a DePuy ASR settlement averaging about $200,000 per case, but that was rejected by plaintiffs' attorneys as too low.
[bloomberg.com/news/2012-08-21/j-j-said-to-pay-600-000-to-settle-first-suits-over-depuy-hips.html]
[bloomberg.com/news/2013-03-08/j-j-must-pay-8-3-million-in-suit-over-defective-hip-jury-says.html]
[bloomberg.com/news/2013-01-18/j-j-said-to-offer-implant-pact-that-may-reach-2-billion.html]
Alonso Krangle LLP continues to offer free lawsuit evaluations to individuals affected by the DePuy ASR hip recall. To discuss a potential DePuy ASR hip replacement recall lawsuit with one of the experienced and compassionate medical device lawyers at Alonso Krangle LLP, please contact us at 1-800-403-6191 or visit our website, FightForVictims.com.
About Alonso Krangle LLP
Andres Alonso and David Krangle, attorneys with almost 40 years of collective legal experience, have focused their law practice on the handling of significant personal injury cases, defective drug and medical device litigation, construction site accidents, nursing home abuse, medical negligence, qui tam/whistleblower actions and consumer fraud cases. A leading law firm representing injured victims throughout the U.S., Alonso Krangle LLP is headquartered in Long Island, New York, with offices in New York City and New Jersey.
For more information about Alonso Krangle or to join the fight and be a part of our team, please contact us at 1-800-403-6191 or visit our website, http://www.FightForVictims.com.
Contact:
Alonso Krangle LLP
445 Broad Hollow Road
Suite 205
Melville, New York 11747
Toll-FREE 1-800-403-6191
Tel: 516-350-5555
Fax: 516-350-5554