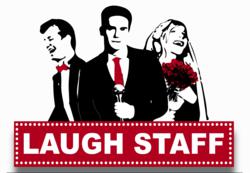 Sometimes it just happens that you get pregnant before becoming a bride.
Cleveland, OH (PRWEB) March 20, 2013
On March 18, 2013, Laugh Staff, consultants for best man speeches, comments on "12 Weddings Rules Every Bride Should Feel Free to Break" by The Stir. Not all brides (and grooms) are created equal, and so the times are a-changing for couples to make their own rules. It's part of the new way.
The Stir stated that some pieces of the bridal wardrobe are just not for everyone: "Wearing a veil - hey, it's not for everyone...wearing a blusher - it's really not for everyone." Doing things out of order is another point The Stir made: "It's not just celebs like Kim Kardashian, Kristin Cavallari, or Jessica Simpson doing it these days. Sometimes it just happens that you get pregnant before becoming a bride." But wouldn't that child just be the proof of your love (now everyone say "aww!")
Laugh Staff comedian Kali Fencl had this to say about The Stir article, "trying too hard to be unique was probably the most important point that was made. Sometimes brides feel they shouldn't do anything traditional". Fencl went on to say "If the bride to be has already gotten to the point where they don't care about loving Disney movies and rocking out to the Spice Girls every now and then, then maybe the cha cha slide can make an appearance at their wedding. If it makes them happy, who cares?".
Laugh Staff, Inc. was founded in 2012 by a team of comedians and writers in Cleveland, Ohio. Laugh Staff provides speechwriting services to friends and family members of the bride and groom. They assist best men and maids of honor in speech-editing, speechwriting, and provide training on speech delivery. Recognizing the importance of the big day, Laugh Staff's professional comedians work with best men and maids of honor to ensure they make a lasting impression. For more information visit us http://www.laughstaff.com.