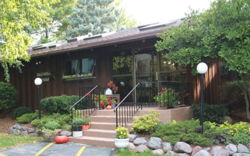 I like Dr. Pat Crawford because he is very thorough, and he always uses the latest dental technology.
Kenosha, Wisconsin (PRWEB) March 20, 2013
Pat Crawford DDS is a local, family run dental clinic in Kenosha, WI. Owned by Patrick Crawford, the clinic has been in operation for over 25 years. Their mission is to provide patients with the best dental care possible with the least pain possible for the cheapest price possible using the best dental technology possible. According to patient testimonials, that's exactly what Dr. Crawford has been doing. He has over 1000 patients and the majority would greatly recommend Dr. Crawford to their friends.
For the next few months, Pat Crawford DDS is offering new patients a 10% discount on their first copay. Since one of Dr. Crawford's goals is to make dentistry affordable for as many people as possible, he thought this offer would be great. Most other dentists in Kenosha never offer discounts like this. The price is just the price. Dr. Crawford is stepping outside the bounds of normal pricing, and he expects to have other offers rolling out throughout the year.
One of the ways that Dr. Patrick Crawford helps his patients is by offering valuable articles on his website. The articles range from the causes of canker sores to healthy foods that strengthen your teeth. Dr. Crawford wants his patients to be educated because maintaining a healthy mouth is a key component of maintaining a healthy body. Most people don't know the many side-effects of having a dirty mouth. Because of the different bacteria in the mouth that can escalate due to lack of cleaning, doctors can potentially determine possible future diseases just by sampling a patient's breath. Here is a list of some diseases that can be spotted just from someone's breath:
Asthma
Stomach ulcers
Lung cancer
Diabetes
Kidney disease
Liver disease
Heart transplant rejection
Irritable bowel syndrome
Pretty interesting eh? People should get the picture right? Well, not quite. People still smoke. People still drink too much alcohol. People know that brushing their teeth is really important, but people are naturally lazy, which is good for dentists like Dr. Crawford. There will always be a supply of people who need their teeth fixed. But if you want to learn some cool tricks and facts, Dr. Crawford's website is a great resource.
One of the biggest reasons why Dr. Crawford has such a high retention rate with his patients is because he uses the best dental technology. Patients love knowing that their dentist is on top of the latest equipment and processes. Dr. Crawford brings that to the table with his large TV screens and intraoral camera. He shows his patients their mouth with a camera. That way, they can see inside their mouth on a huge TV screen. Not only is that impressive, but it allows the potential for Dr. Crawford to spot something on the TV that he might have missed otherwise. But that's a pretty low probability. It's just cool seeing being able to see someone's teeth on that huge TV screen.
In addition to that, Dr. Crawford has the best technology. He uses drilless dentistry techniques like a sand-blasting air abrasion machine that gets rid of plaque through high pressure sand and water instead of a drill. This saves the patient a lot of extra enamel when having to get rid of a cavity. Dr. Pat Crawford also does amazing 3/4th crowns and implants. He tries to save tooth structure whenever possible and applies the best methods for doing that.
Pat Crawford DDS is known for a nice, friendly atmosphere, quality employees, and a skillful dentist who can do basically any dental procedure. That is one of Dr. Pat Crawford's most notable skills; he can do it all. He does root canals, implants, crowns, bridges, fillings, veneers, dentures, extractions, and all the other hard dental procedures that most other dentists have to refer out. Plus, Dr. Crawford is efficient and diligent, and he can satisfy most patients in just one appointment. Those are the two reasons why Dr. Pat Crawford is one of the best dentists in Kenosha. He saves people time and money.