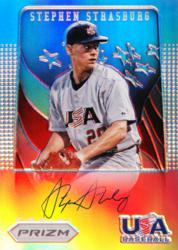 Irving, Texas (PRWEB) March 19, 2013
Panini America (http://www.paniniamerica.net), the world's largest sports and entertainment collectibles company, announced today that it has reached an exclusive multiyear autograph agreement with Washington Nationals pitcher Stephen Strasburg. The deal grants Panini America the exclusive rights to produce autographed trading cards of Strasburg, a 15-game winner in 2012 who led the Nationals to the NL East title and their first postseason berth.
Panini America's first Strasburg autograph cards will appear in the April release of its MLBPA-licensed 2012 Prizm Baseball product and will feature Strasburg in his USA Baseball uniform. Panini America is the official and exclusive trading card partner of USA Baseball.
"Stephen Strasburg is one of the most dominant pitchers in the game today; and one of baseball's most popular and collected players," said Panini America CEO Mark Warsop. "His exclusive presence in our licensed MLBPA trading card releases is a huge development for us and will add even more excitement to our roster of products. We're honored that Stephen has entrusted us – exclusively – to represent and protect the integrity and collectibility of his autographed trading cards."
Strasburg is Panini's first exclusive athlete for its MLBPA trading card products and joins a roster of other exclusive athletes including five-time NBA Champion Kobe Bryant of the Los Angeles Lakers, two-time NBA Scoring Champion Kevin Durant of the Oklahoma City Thunder, Blake Griffin of the Los Angeles Clippers, Kyrie Irving of the Cleveland Cavaliers and Anthony Davis of the New Orleans Hornets. Panini also has an exclusive autograph memorabilia deal with Indianapolis Colts Quarterback Andrew Luck for its Panini Authentic memorabilia division.
"I'm excited to announce my relationship with an innovative company like Panini and deliver my autographs to baseball collectors exclusively in Panini trading card products," Strasburg said. "I'm looking forward to working with Panini and joining the ranks of their other exclusive athletes for trading cards."
Panini America is the only company in the world that manufactures licensed trading cards and stickers for the NBA, NFL, NFL PLAYERS, NHL, NHLPA, MLBPA and FIFA World Cup. The company also has exclusive relationships with USA Baseball, USA Basketball and the U.S. Soccer Women's National Team. In addition Panini also has relationships with the Pro Football Hall of Fame, Naismith Memorial Basketball Hall of Fame and the National Baseball Hall of Fame, and owns exclusive entertainment licenses with Disney, One Direction, Justin Bieber, Michael Jackson, and more than 600 global licenses with other sports and entertainment properties.
ABOUT PANINI:
The Panini Group, established almost 50 years ago in Modena, Italy, has subsidiaries throughout Europe, Latin America and the United States. Panini is the world leader in officially licensed collectibles and is the most significant publisher of collectibles in the U.S., with official licenses for MLBPA, NBA, NFL, NHL, FIFA, USA Baseball, Disney, Nickelodeon, Warner Bros. and other key properties from many other licensors. Panini has distribution channels in more than 100 countries and employs a staff of over 800. For more information visit us at http://www.paniniamerica.net, http://www.paninigroup.com or http://www.paniniamerica.wordpress.com. You can also follow Panini America on social media platforms Facebook, Twitter and on YouTube.