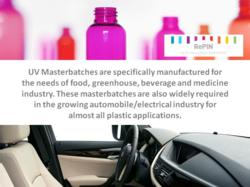 London, UK (PRWEB) March 19, 2013
Nowadays Africa has become one fastest growing markets in a global perspective and with its rapid expansion, companies worldwide are looking forward to introducing their products and services in a Region with a huge growth potential over the latest years; reason why the Indian company RePIN Masterbatches, is launching in the African market their UV Stabilized Masterbatches for a variety of applications in the plastics industry.
RePIN Masterbatches always at the forefront, offers a wide range of innovative additive masterbatch dispersion for a variety of applications. These masterbatches are used with a broad of polymers that are used to optimize processes and for finishes package performances.
The UV Stabilized Masterbatches, manufactured by RePIN Masterbatches, are specially produced for food, greenhouse, beverage and medicine industry needs. The Ultra Violet Stabilizers & Absorbers, are used together to prevent loss of moisture, taste and color of food, due to exposure of the sunlight. These masterbatches are also widely required in the growing automobile/ electrical industry for almost all plastic applications, and also for plastics outdoor furniture items, due to the harmful UV rays of sun.
Now launching their range of UV Masterbatches in the African Region, RePIN Masterbatches wants to build a strong and dynamic relationship with a market that day by day is growing creating huge opportunities in the Plastics Industry.