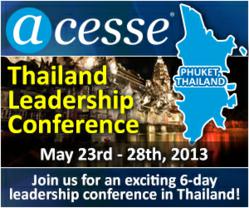 Minneapolis, MN (PRWEB) March 19, 2013
Acesse will host an exciting 6-day leadership conference in Phuket, Thailand on the days of May 23 – May 28, 2013. Top leaders from many Asian countries will join together to participate in 6 days of networking, education, sharing of information, team building and leadership development. The conference is intended to motivate and inspire attending leaders and enhance the growth and success of Acesse teams in Thailand, China, Taiwan, Japan, and other developing areas.
The 6 day event includes participation from corporate executives Robert Kinsella, President and CEO of Acesse, and James Wong, CTO of Acesse; both will be keynote speakers at the conference. Annie Zhang, top Chinese leader for Acesse, will be a keynote speaker during the leader's portion of the conference as well as other top leaders who have been invited to speak to peers.
"Conferences like these are a significant key to our growth and the development of our markets abroad. Providing platforms like these that bring top leaders and company executives together for sharing of ideas gives us all an opportunity to learn and build excitement." says Robert Kinsella, CEO and President of Acesse.
The information shared at the Thailand Leadership Conference will provide greater resources and positive energy for leaders to bring back to their communities across Asia. The product knowledge and fierce motivation that will result from the conference is sure to have a direct impact on increasing the success of the Acesse leaders attending the conference and on their team members throughout Asia.