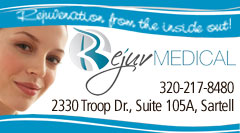 Minnesota (PRWEB) March 25, 2013
Minnesota's own Rejuv Medical has joined forces to help the American Cancer Society conduct a study in June of 2013. Rejuv Medical will act as the host site location for the American Cancer Society's Cancer Prevention Study - 3 (CPS-3). Rejuv Medical's mission coincides with the purpose of this Study. The exact dates in June will be announced in a follow-up release. http:http://www.RejuvMedical.com
"Our company is proud to be a part of the CPS-3. Researchers will use the data from this year's Study to build on evidence from a series of prior American Cancer Society studies that began in the 1950s. By acting as the host site, Rejuv Medical is hopeful many of our own clients will volunteer to help find a cure for cancer," said J.R. Burgess of Rejuv Medical. "Anyone in Minnesota who is between the ages of 30 to 65 can be a part of this Study as long as they have no personal connection to cancer."
"Taking an hour or so every few years to fill out a survey – and potentially save someone from being diagnosed with cancer in the future - is a commitment that thousands of volunteer participants have already made. We're looking for more like-minded individuals in Minnesota to join this effort that we know will save lives and improve the outlook for future generations," said Alpa V. Patel, Ph.D., principal investigator of CPS-3. "I'm hopeful this study will help identify the specific cause of cancer."
Rejuv Medical is going to be proactively recruiting clients at both locations to participate in the June CPS-3. In addition, the company is donating space and wants to welcome the community to join its forces and help prevent the next generation from battling cancer. "Over 300 scientific articles have been distributed by the American Cancer Society epidemiologists as a result of prior studies. We have information on the link between tobacco-related research and cancer because one of these studies. It is an honor to help contribute space and awareness of the study on a local level," continued Burgess.
About Rejuv Medical: Rejuv Medical specializes in Orthopedic and Sports Medicine, weight loss and fitness, anti-aging procedures, and is dedicated to global health care through the company's charitable efforts. For an interview with Dr. Baumgartner, or to schedule a media tour of the facility, please contact Rejuv Medical at (320) 217-8480 or Helene Vece, Media Manger, at (702) 749-5925.
About the American Cancer Society: The American Cancer Society combines an unyielding passion with nearly a century of experience to save lives and end suffering from cancer. As a global grassroots force of more than three million volunteers, we fight for every birthday threatened by every cancer in every community. We save lives by helping people stay well by preventing cancer or detecting it early; helping people get well by being there for them during and after a cancer diagnosis; by finding cures through investment in groundbreaking discovery; and by fighting back by rallying lawmakers to pass laws to defeat cancer and by rallying communities worldwide to join the fight. Contact: 1-800-227-2345 or visit cancer.org.