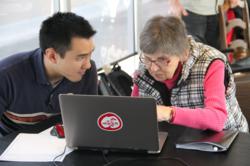 Working closely with Bayview we realized that loneliness can be a big problem no matter how old you are
Seattle, WA (PRWEB) March 21, 2013
People are living longer which means many older adults are finding themselves alone in later years. On March 28th seniors looking to find love will get an extra hand from the digital generation at the Social Media for Silver Foxes:Dating in the Digital Age event.
"It's been a long time since people could assume they'd have someone to grow old with," states Sue Donovan, Director of Marketing for Seattle's Bayview Retirement Community. "Approximately 68% of our residents are single whether due to death of a partner or divorce."
While larger retirement communities such as Bayview with over 170 residents provide a micro community where seniors have the potential to find partners, those living in smaller facilities or who are in their early senior years and not yet living in a senior residence, can find it difficult to meet new people in their age group. For 20, 30, even 40 somethings "E-Harmony" or "Match" is the obvious answer, however for older people online dating sites still represent a technological or social obstacle.
"Seniors often say they feel as though Social Media is for younger generations so the idea of using dating sites to meet new people is really intimidating," states Donovan. "But what many older people are unaware of is that there are dating sites out there specifically created for seniors."
To lend a hand to seniors looking for love, Bayview Retirement Community and online marketing company, Bonsai Seattle, are hosting their Dating in the Digital Age event. The second in Bayview and Bonsai's Social Media for Silver Foxes series, the event will introduce seniors to the possibilities of online dating and give them tips on:

Finding the best online dating site for their personality
Looking out for scams and keeping their personal information secure
Creating great profiles
How online dating sites can be used to find love or even just companionship
"Working closely with Bayview we realized that loneliness can be a big problem no matter how old you are," explains Leif Johnson of Bonsai Seattle. "The only difference is that our generation is accustomed to using online tools that bring people together like Skype, Facebook or online dating sites - we thought maybe our own experiences in the online dating world could help seniors get out there and do it too!"
Social Media for Silver Foxes: Dating in the Digitial Age will take place, Thursday March 28th from 1-3pm at Bayview Retirement Community. It is free and open to the public. RSVPs are required. For more information and to reserve space at the event call 206-281-5768.