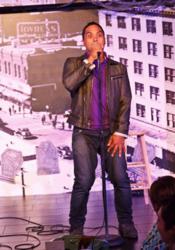 New York, NY (PRWEB) March 18, 2013
Filipino comic Michael Quu will be headlining Jokers Wild in Connecticut. He will be bringing his comedic talents to New Haven for one night only. Tickets are on sale now for this very special event from one of the fastest rising comedians performing today. Presented by Tickethunteronline.com, the Full Throttle Comedy show is expected to sell out.
You may have seen the New York born Michael Quu performing on numerous television appearances. Most notably on his comedy half hour special titled "Comedy Madness".
The New York born comic has made his stand-up career with self-deprecation — jokes about his lack of attention, money troubles, losing arguments with his ex girlfriends, and trying to keep up with his more successful childhood friends.
Quu pronounced "Q" is known for his prowess in observational comedy and side-splitting crowd work. His incredible physicality in his stage performance has had critics compare him to a mix between Jo Koy and Dane Cook.
"Michael Quu's abilitiy to convey a story through body movement undoubtedly has a Dane Cook inspired rhythm. " stated Melonie Sando of the New England Chronicle.
Quu stated one of his many influences and favorite comedians is fellow Filipino comedian Rex Navarette.
"My whole family would go to see Rex Navarette whenever he was in town. I think he's still the top Filipino comic working" stated Michael Quu.
In 2011 Quu's Comedy Madness show played an amazing 185 dates to mostly sold out crowds. The show draws a varied audience in their 20's and 30's.
A leading hotel chain is offering a 20% hotel discount for ticket holders.
Tickets to see Michael Quu are on sale now and can be purchased at http://www.jokerswildclub.com/ or tickethunteronline.com