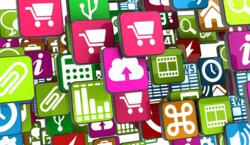 Mobility as a business channel is not a choice, but a necessity. The enterprise is moving from 'systems of records' to 'systems of engagement' with the need to access data anytime, anywhere and on-demand.
Houston, TX (PRWEB) March 20, 2013
This week marked a significant milestone for Innovapptive Inc. as it launched its first Enterprise Mobility App on the Apple store. This milestone saw stage one of their 2013 plans come to fruition after 4 months of hard work by the design team in Texas and the development team in India. Over the next few weeks, Innovapptive has several mobile applications in the pipeline slated to be released on Apple, Google Play and SAP Stores. For year 2013 Innovapptive will focus on four main areas – Build a strong portfolio of Mobile Apps that companies can use out-of-the-box to solve major business challenges, Enterprise Mobility strategy and consulting services to enterprises looking to bridge the mobility gap, Enterprise Mobility development, support, outsourcing and Enterprise Mobility as a Service (eMaaS). These solutions outlines Innovapptive's comprehensive Enterprise Mobility solution suite, which aims to radically transform and empower enterprises. As a SAP Partner in the area of Enterprise Mobility, Innovapptive will leverage all resources available under this umbrella to align strategies and market and sell its products and services.
The demand for smartphones and tablets combined with the comfort levels that have been created with consumer mobile technology has made it evident what these smart phones and tablets can deliver a significant competitive advantage to an enterprise. Innovapptive understands that a single dedicated desktop device issued and owned by an enterprise will no longer satisfy the performance and accessibility needs of corporate employees. Flexible, agile, downloadable or cloud-based mobile applications will replace traditional static solutions stored on corporate desktops. The enterprise is moving from 'systems of records' to 'systems of engagement' with the need to access data anytime, anywhere and on-demand. Innovapptive's Enterprise Mobility Solutions has evolved based on this transformation in the enterprise.
"We are focused on developing apps that solve major business challenges – through innovation, and in turn improve productivity and deliver superior employee adoption," commented Sundeep Ravande, President and Co-Founder. "In the year 2012 and prior most enterprises focused on building in-house mobile apps as the free market did not have enough pre-packaged enterprise mobile applications nor did the quality meet the customers' expectations. At Innovapptive, we want to change this model with a full suite of apps that will empower enterprises. Our team spends considerable amount of time in design thinking to build intuitive screens and simple flows to offer a high quality user experience and adoptability. Through continuous innovation, and our suite of mobility solutions, Innovapptive will empower enterprises and as well justify the business case for a mobile solution."
Innovapptive's market research has indicated that cost is a major factor as a majority of companies find it challenging to obtain a budget for Enterprise Mobility. CEO and Co-Founder Hari Kamineni believes that Innovapptive will be able to offer a mobility solution that fits every budget. According to Mr. Kamineni, "we will take the cost factor out of the equation by offering a simple, repeatable and agile mobile framework. We are in the 'bring your own devices (BYOD) era. Enterprises are already investing heavily in BYOD technologies. Research shows that 70% of organizations consider BYOD as a priority. We want to capitalize on this statistic by empowering enterprises to create a more agile and flexible workplace." By enabling employees to carry out critical business processes and address roadblocks on their mobile devices rapidly Innovapptive envisions a more productive workforce which directly translates to increased revenue.
Innovapptive expects this vision to not only bring financial benefit to the company, but also make Innovapptive a key player when it comes to mobile-based business transformation solutions. In conclusion, according to Mr. Ravande, "Mobility as a business channel is not a choice, but a necessity. With billions of mobile devices around the world, the challenge of enabling these devices to access corporate information at the right time and place, enhance productivity, and generate commerce will require a wide variety of solutions working together without major integration concerns. The Innovapptive suite of mobility solutions will meet the enterprises needs to provide them the required competitive advantage."
About Innovapptive
Innovapptive Inc. is an Enterprise Mobility - Development, Consulting and Staffing firm that specializes within the Source to Pay, Finance and Analytics business processes by providing a wide range of SAP product engineering and consulting services. Innovapptive's expertise in SAP Product Development, business strategy, transformation, implementation, deployment and operations offers our clients a wide range of end-to-end solutions that maximize their business productivity.