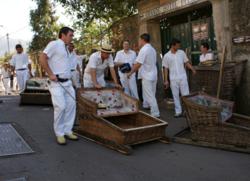 Cruise Dreams never forgets that this is supposed to be a "rewarding" experience. Their travel programs that will have people talking about their experiences and showing their videos and pictures for years to come.
Kansas City, MO (PRWEB) March 19, 2013
The Costa del Sol and the Canary Islands are well celebrated and justly so, for their beauty and it's almost year-round ideal weather. As the crown jewel of an incentive trip or group vacation, Cruise Dreams advises everyone to look closely at all the possibilities for a variety of experiences that can be found with a group cruise that begins here on Spain's Coast of the Sun.
"The trips we plan here really have something for everyone – sun-worshipers, golfers, history buffs, gourmets, water sport fans, art-lovers, I could go on and on," says Kim Gibbons, founder and president of Cruise Dreams an agency known for group travel and group cruises. "This is an excellent opportunity to incorporate a number of unique experiences and visit 4 countries during a brief period – each of them completely different!"
Here's an example of an incentive cruise and land tour we put together to demonstrate the possibilities for an affordable yet unusual incentive program (or group travel). The program began with a 5 night cruise from Malaga, Spain with a recommended pre night in Malaga. A must-see for everyone was the Museo Picasso Málaga, or Picasso Museum, in the old quarter near Picasso's birthplace. Many of the artworks are family heirlooms and even those who professed little interest in art found the collection fascinating.
A day of cruising left an opportunity for corporate meetings and the introduction of a new product line while still reminding the winning dealers that they were relaxing in the Mediterranean.
The first port of call was Tenerife, in the Spanish Canary Islands. Conquered by the Spanish about 500 years ago, this island is a delightful combination of whales and pyramids, volcanoes or sunny beaches, tapas, paella birds and monkeys. Most of the group divided equally to the two tours we planned, one visiting the pyramids of the Tenerife and touring the city and the other whale watching! As we said, this is a program filled with exotic possibilities and sure to delight the winners in any incentive program.
The second day took our group to Funchal, on the island of Madeira in Portugal. An incredibly picturesque view awaited our group, one said to rival the first views of Rio de Janeiro. Our day combined a cable car ride, a toboggan and a wine tasting! We literally "flew" over the landscape in cable cars up to the botanical garden in Monte then flew down via a toboggan which slides down cobblestones to the next stop on our tour.
Another day at sea again provided opportunities to train and introduce product lines and new strategies and well as create some team building opportunities. Our final day landed us in Marbella for additional excitement.
In Marbella, chic resorts and gorgeous beaches coexist with cobblestone streets, flower-filled balconies and whitewashed houses in the older part of town. A side trip to Ronda was an option and a popular one for the old quarter sightseeing and beautiful mountain landscapes.
For this group, we proposed two spectacular side trips. One to Gibraltar and one to Morocco. The idea was to provide as many unusual experiences into a short period of time in a very affordable way and without requiring a lot of travel time.
Gibraltar is a wonderful and complete contrast from the rest of the program. Just 48 miles from Marbella, it's both a town and a country albeit a very small one, just 2 1/4 sq. miles in size. But here you'll find all modern conveniences including its own airport as well as the famous rock and a very British point of view mixed with a Spanish heritage.
The view is of course, breathtaking with Europe at your feet and Africa to the East, the Atlantic on one side, the Mediterranean on the other and a panoramic view of the city. Moorish Castle and Apes Den are two of the many other sights to see.
"However, I think our last incentive group that chose this particular combination enjoyed Morocco most," said Gibbons. "While this group enjoyed Tangiers, depending on the group and their interests, other activities and team building events we have planned, we might recommend Casablanca, Marrakech or Fez for that truly exotic flavor that make Kodak moments."
Gibbons adds that "we never forget that this is supposed to be a "rewarding" experience. We plan programs that will have people talking about their experiences and showing their videos and pictures for years to come.
Companies will really appreciate the affordability of this area of the world. Gibbons goes on to say that the value of the dollar and Cruise Dreams' connections throughout the region really allow them to create an experience that dealers or sales people will rave about for years to come."
And after all, isn't that really what every incentive trip should be?
# # #
Cruise Dreams is a specialized travel agency focusing on corporate incentive travel by land or at sea as well as group travel and group cruises. While Cruise Dreams Incentive Travel is well-known and respected by cruise lines, hotels and ground operators, their trademark is really the inventive and innovative packages they create for their group and incentive travel clients. Unusual excursions, remarkable events coupled with high value are the key elements of any Cruise Dreams group tour or cruise. No matter what kind of group travel you plan, a cruise, full ship charter or a stay at 5-star all-inclusive luxury properties world-wide, Cruise Dreams provides expert advice and savings. For more information, visit http://www.cruisedreamgroupescapes.com/ or call 1-877-999-4533.