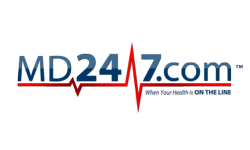 MD247 reviews spring allergy symptoms.
Tampa Florida (PRWEB) March 19, 2013
MD247 issued a medical alert to all members of the supplemental telemedicine program on March 18, 2013 regarding the subject of spring allergy symptoms and spring allergy treatment. The alert provided not only a review of common spring allergy hot points, but also a review of the methods regular people can use to fight spring allergies.
All info gathered by the Asthma and Allergy Foundation of America is meant to serve only as a supplemental method by which to treat spring allergies. MD247 suggests that all program members talk to a doctor when considering long-term treatment of allergy symptoms.
Tips provided by MD247 to fight spring allergy symptoms include:

MD247 explained that it is always appropriate to talk to a doctor before treating spring allergy symptoms.
MD247 explained that exercise will not inhibit spring allergy symptoms, but the increased blood flow will keep sinuses clearer.
MD247 explained that people suffering spring allergy symptoms will also want to be aware of everything that they are eating, as food allergies can also strike.
MD247 explained that spring allergy symptoms can also be fought by keeping both home and work areas clean and clear of potential allergens. Vacuuming and the cleaning of linens are a must!
MD247 suggested that people who are highly susceptible to spring allergens also try to avoid going out during times when allergen levels are particularly high in the air.
MD247 reminded all program members who experience particularly bad bouts of spring allergy symptoms to talk to a doctor about carrying a rescue inhaler.
As MD247 continues to move toward spring and summer, it will continue to provide reviews of spring and summer allergy symptoms and treatments. The provider of supplemental health information encourages members of the program to contact mgermann(at)md247(dot)com with requests for articles that cover health and wellness topics across the board.
Largo Florida based MD247.COM (MD247; MD/247; MD 247; M.D.247; MD-247) provides an affordable telemedicine supplement to existing healthcare services. MD247.COM telemedicine program members have unlimited telephone access to a nationwide medical support team, all with just a single phone call to the MD247.COM telemedicine Talk to a Doctor/Talk to a Nurse Hotline. MD247.COM has a virtual platoon of registered nurses; board certified physicians and a support staff available to members for all non-emergency situations. MD247.COM believes in Better Business Bureau reviews, and encourages frequent reviews of customer care policies by customers with our staff. More information about MD247.COM is available online at http://www.md247.com.