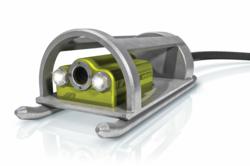 JetScan™ delivers what cleaning crews want: inexpensive, dependable footage that gives basic information about what's going on underground.
Randolph, NJ (PRWEB) March 20, 2013
Deployed on any ¾" or 1½" jetter hose, the new JetScan™ from Envirosight is the quick, easy way for a cleaning crew to identify blockages during emergency call-outs, determine what tools and setup to use, and document the outcome of cleaning operations. It's affordable enough to put on every cleaning truck, yet captures valuable HD video footage from underground that can be viewed immediately afterward on a tablet.
"Our market is awash in pricey jetter cameras that promise live video, but which work intermittently, delivery poor quality and impede the cleaning process," says Richard Lindner, President of Envirosight. "When we spoke to cleaning crews, we found they wanted something completely different: inexpensive, dependable footage that gives basic information about what's going on underground—without getting in the way. JetScan™ is designed for these crews."
As JetScan™ advances down pipe 8–24" in diameter, it records 720p HD video in MPEG format to an onboard 32GB SDHC memory card. Immediately afterward, the card can be removed and video viewed on an iPad or other SDHC-compatible device. Twin high-output LED lamps ensure bright, vivid footage. JetScan lasts four hours on rechargeable lithium-ion batteries, and stores up to eight hours of video.
About Envirosight LLC
Randolph, New Jersey-based Envirosight, LLC provides video pipeline inspection solutions to municipalities, contractors, departments of transportation, and civil/environmental engineers. Envirosight is committed to ongoing innovation, delivering products that enhance user productivity and inspection detail. Envirosight serves customers through a trained network of regional sales partners who deliver localized support and expertise with rapid turnaround. All Envirosight technical employees hold NASSCO PACP certification. Visit Envirosight online at http://www.envirosight.com.