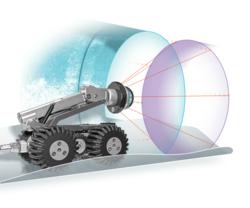 There's so much effort and expense involved getting a crawler on location and into a pipe, why not capture as much data as you possibly can?
Randolph, NJ (PRWEB) March 22, 2013
Attaching to the back of a DigiSewer III side-scan camera, the new DSL7 accessory casts a ring of laser dots onto the inner wall of a pipe. These dots are captured by the camera during reverse crawl (once side-scanning is complete) and instantaneously processed by WinCan software to trend ovality along the full length of the pipe. Ovality data is essential to determining proper pipe installation and relining, and to monitoring pipe settling and deterioration.
"There's so much effort and expense involved getting a crawler on location and into a pipe, why not capture as much data as you possibly can?," says Richard Lindner, President of Envirosight. "That was the original philosophy behind DigiSewer, which captures high-res detail from every square inch of pipe, not just where an operator stops to pan, tilt and zoom. The DSL7 just adds another layer of intelligence to what this camera already captures."
In fact, WinCan software correlates captured side scan data directly with ovality measurements, allowing an operator not only to pinpoint where problems exist, but to characterize those problems using the corresponding side-scan data. WinCan software generates a variety of ovality reports, and can even feed the underlying geometric data into CAD programs and virtual 3D reconstructions of infrastructure.
The DSL7 accessory is compatible with any ROVVER X-based DigiSewer III camera, and is available for immediate shipment.
About DigiSewer
Compared to traditional CCTV inspection, DigiSewer side-scanning captures higher-resolution detail from every square inch of pipe wall at speeds up to 50 fps. Field operators can dramatically boost productivity by never stopping to pan, tilt or zoom, and engineers can review and annotate scans in a fraction the time video requires.
DigiSewer scans are built by extracting and unwrapping rings of pixels from successive frames of video. The result is a single image strip whose width represents the entire length of a pipe, and whose height represents the full circumference of that pipe. Storing up to 3000 ft/GB, these scans are easy to transmit and archive. DigiSewer works with asset management and GIS software, and supports PACP.
About ROVVER X
ROVVER X is the one pipe inspection system that lets an operator do everything—control inspections, view and record digital video, log observations, generate reports, and link directly to asset-management software. All this capability is packed into a simple three-piece layout, with no CCU or other components to clutter the workspace.
Though remarkably self-contained, ROVVER X is built on an expandable digital backbone. Not only can an operator add side-scanning and laser profiling, he or she can view data from onboard sensors, automate tasks with macros, and measure defects onscreen. And future capabilities are limitless—ROVVER X's firmware updates automatically to the latest features, and its architecture is ready for any accessory—even ones that don't yet exist.
Advanced technology aside, ROVVER X is built for the rigors of sewer inspection. Twelve wheel options—plus camera lift, carriage and illumination accessories—mean ROVVER X transforms in seconds to inspect any size line. Its six-wheel drive with proportional steering navigates past obstacles, and overlapping wheels climb offsets better than tracks. Powerful motors and a geared drive train maximize range and pivot capability, even with carriage and 10" knobby tires installed.
Ultimately, however, reliability and productivity have made ROVVER the number one crawler brand worldwide. ROVVER X continues this tradition with unsurpassed video resolution and 50% more illumination, leaving no detail hidden. Its powerful reel monitors cable tension optically to prevent slack and minimize resistance, allowing one-man operation. And self-diagnostic capabilities, plus access to operating history, only enhance the uptime of the one crawler that already leads the industry.
About Envirosight LLC
Randolph, New Jersey-based Envirosight, LLC provides video pipeline inspection solutions to municipalities, contractors, departments of transportation, and civil/environmental engineers. Envirosight is committed to ongoing innovation, delivering products that enhance user productivity and inspection detail. Envirosight serves customers through a trained network of regional sales partners who deliver localized support and expertise with rapid turnaround. All Envirosight technical employees hold NASSCO PACP certification. Visit Envirosight online at http://www.envirosight.com