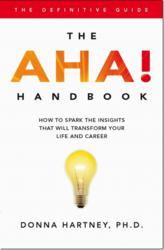 Priming yourself for a defining moment is quicker and easier than giving the bedroom a fresh coat of paint or washing all of the window treatments.
Buffalo, NY (PRWEB) March 20, 2013
Spring cleaning isn't just for the home. Life coaches and career advisers often recommend annual assessments of the mind, body, and soul to clear the cobwebs from the inner reaches of the brain. Performance consultant and "aha" moment expert Donna Hartney, Ph.D., offers 5 tips for undertaking a life and career spring cleaning.
"A personal spring cleaning can be easier than getting your house in shape for the coming warm weather. Sometimes, all it takes is changing your mindset ever so slightly, just enough to be open to those pivotal realizations that can radically alter some aspect of your life—your health, relationships, career, or spiritual life," says Hartney, author of the self-help book titled The AHA! Handbook: How to spark the insights that will transform your life and career.
"Priming yourself for a defining moment is quicker and easier than giving the bedroom a fresh coat of paint or washing all of the window treatments," she adds as she offers the following 5 tips:

Go ahead, live life. An "aha" moment will arrive in the midst of living life, not separate from it. So don't put everything on hold while waiting for an insight to appear. Get moving. Dive into life. That's where pivotal insights will be found.
Be alert in the good times and in the bad. Pivotal insights occur when life is going well, and when it's not. So be observant in every situation. Pay particular attention, moment to moment, to personal reactions to the events of life. Noticing one's thoughts, feelings, and actions can spark a flash of clarity that will deliver a breakthrough.
Practice patience and impatience. Be impatient--dream big dreams, push hard to achieve them, and expect spectacular results. But also be patient. Life-changing insights arrive in their own time. Take care of what can be taken care of and reflect on the rest. Let things go and move on. Trust that the subconscious mind is working on a pivotal realization that will make all the difference.
When progress slows, be curious about the situation. Notice personal reactions to the slowdown and ask questions about those reactions. Asking questions will prime the subconscious mind to work on answers, ones that will likely be delivered in a flash of insight. "Aha" moments usually appear out of the blue—often in the midst of doing something else, somewhere else. So relax and get back to life.
Be willing to let go. A life-changing insight, by definition, is a flash of clarity about the reality of the situation. Adopting a new reality may require letting go of something once thought to be true and important. Be willing to see things differently for therein resides the possibility of a transformational epiphany.
The AHA! Handbook is the first research-based self-help book to teach readers how to prime themselves for life-changing insights. The book counters conventional wisdom, which holds that momentous, life-altering "aha" moments are rare events outside a person's control. It is based on Hartney's analysis of 99 published, first-hand accounts of life-changing insights. The book is published by Clarenell Press, LLC and is available in bookstores nationwide. Learn more at http://www.donna-hartney.com/book-2/.