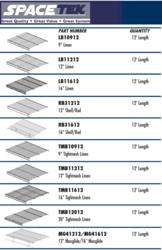 Charlotte, NC (PRWEB) March 19, 2013
A One Stop Shopping Solution - Coastal Shower Enclosures + SpaceTek Ventilated Closet Shelving
Coastal Industries, the nation's leading manufacturer of shower enclosures expands distribution of SpaceTek ventilated wire shelving through its Charlotte, North Carolina location. Coastal's customers can now enjoy increased efficiency & convenience with a one stop shopping solution for closet shelving & shower enclosures.
Shelving Program Benefits:

Superior Load Capacities
Convenience of purchasing two products from one supplier
No minimum order when combined with shower doors
Quick order turnaround from Coastal's distribution facility located between Charlotte, NC & Greensboro, NC.
No hassle lifetime free replacement warranty- Coastal's ventilated wire shelving and installation hardware include a lifetime free replacement warranty against all manufacturing defects. Shelving and hardware must be installed in accordance with manufacturer's instructions and guidelines. Should a defect occur, Coastal will replace any defective part for free.
About Coastal Industries: Company Video
Located since its inception in Jacksonville, Florida, our manufacturing operation is housed in the most advanced and efficient bath enclosure production facility in the world. The 250,000 square foot state-of-the-art facility employs over 200 professionals making it the largest shower door manufacturing facility in the USA. Coastal's products are used worldwide and you will see them in the finest hotels and resorts, in top of the line recreational vehicles, in state-of-the-art modular housing, and quite possibly in your next door neighbor's bathroom. With over 1,000 dealers, four strategically placed distribution centers, and a fleet of over 25 delivery vehicles, your new Coastal product is closer to you than you might imagine.
*Current Promotion - Receive 10% off your first Spacetek closet shelving order.