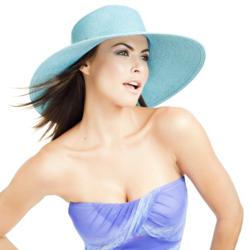 SolEscapes offers a chic and travel friendly selection of vacation gear
Kentfield, California (PRWEB) March 19, 2013
SolEscapes newly designed site offers a great selection of sun hats, sun protection clothing, beach & resort wear, beach & resort bags and travel beach & pool towels in a modern chic and easy to navigate online storefront. It provides customers with a one stop boutique for stylish yet practical warm weather essentials to get ready for the sun whether going on a tropical getaway or enjoying the outdoors at home.
The Travel Lux Microfiber Beach & Pool Towel line is the latest addition to SolEscapes chic and travel friendly selection of vacation gear. The towels are designed to be a luxurious alternative to the traditional travel towels and a space saving option to the standard beach towels. The Sea Life collection is a perfect balance of whimsy and elegance and the beautiful vibrant colors (turquoise blue, fuchsia pink and mango orange) make this towel stand out on the beach or poolside. The Travel Lux towels are fun, colorful and over-sized (40x70") but take up a fraction of the space of a regular beach towel. The Travel Lux Microfiber towels are perfect for the discerning traveler wanting to lighten the carrying load while on beach cruise excursions or beach hopping on tropical islands. It is also a great product for the home user going to the local pool, throwing pool parties or boating.
SolEscapes offer a great mix of practical, fun and stylish beach bags in a variety of price levels including wonderful raffia totes, recycled sailcloth bags and bogg bags. Their selection also includes matching beach hats and bags. Snapper Rock kids swimwear offers a fun and fresh take on kids UV50+ swim wear with a collection of sun protection rash tops, swim sets, sun-suits, board short, hats and kaftans in great colors and patterns. SolEscapes features one of the largest selections of Snapper Rock's 2013 line of boys and girls swimwear and sun protection for boys and girls ages 0-12.
SolEscapes sells stylish sun protection you can trust. They have partnered with a selection of quality brands in the sun safety industry. Physician Endorsed sun protection hats offers a fantastic selection of sun hats with a UPF rating of 50+ for maximum sun protection, blocking both UVA and UVB rays. All spf hats have chemical free sun protection. Sunscreen and sun block are all from COOLA Suncare whom is at the forefront creating some of the best organic sunscreens and sun blocks available on the market many of them receiving the highest ratings from EWG. Victory KoreDry offers swim shirts and rash guards that are practical and comfortable to use while protecting the user from the harmful sunrays. Snapper Rock is specialized in UV50+ swim and sun protection for kids.
Coming soon is a new line of handcrafted jewelry inspired by the colors of the ocean and tropical locales, resort & beach tunics and sandals perfect for warm weather getaways.
SolEscapes is a California based online boutique offering a unique selection of stylish and practical sun, beach and resort essentials for all your warm weather needs. SolEscapes offers personalized service, high quality products and fast affordable shipping. Merchandise including all beach hats is carefully and beautifully packaged to ensure a perfect arrival. For more information please visit SolEscapes.com. You can also connect with SolEscapes on Facebook, Twitter and Pinterest.