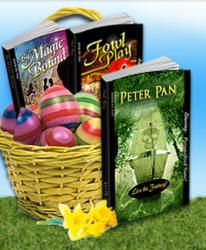 Personalized novels are available in paperback, hardcover and eBook formats
(PRWEB) March 19, 2013
For anyone looking for a unique gift to spruce up an Easter basket, or something even better than plastic eggs full of candy this Easter, Book By You, the leading publisher of personalized novels, has the answer. Readers can choose from an extensive and amazing collection of personalized kids books. These professionally bound hardcovers and paperbacks will look amazing in Easter baskets--and for an even more unique gift, readers can add a personalized photo and dedication. This Easter, Book By You offers a one-of-a-kind treat that will last forever.
Book By You has many great titles to choose from. Robert Louis Stevenson's classic scally-wag tale is perfect for anyone with an adventurer's heart: sail the high seas with Long John Silver in TREASURE ISLAND. Or fall down the rabbit hole and into Lewis Carroll's vivid fantasy world with ALICE IN WONDERLAND, where personalized characters include classics like the White Rabbit, the Mad Hatter, the Cheshire Cat, and of course, Alice herself. In RIDDLES & CODES, one of Kids Book By You's newest releases, the personalized main characters are two friends who love puzzles and mysteries—and their skills are about to be put to an exciting test. With secret messages to decode, riddles to unravel, and tons of clues to uncover, this story is fun for the whole family. Step into the shoes of Pan himself, or star as one of the Darlings, or even the spit-fire fairy Tinker Bell in PETER PAN, J.M Barrie's timeless tale of adventure. With a cast of unforgettable characters, this personalized classic is sure to be a favorite. Kids Book By You even has short stories—great for keeping the suspense alive even when attention spans are short. THE BOOK OF DRAGONS features daring, cunning, and courageous personalized characters who deal with dragons-- some friendly, and some terrifying. And the FAIRYTALE PRINCESS COLLECTION, Book By You's anthology of classic fairytales, is perfect for every family's little princess who dreams of the magical world of Once Upon A Time and Happily Ever After.
Book By You's entire personalized collection is now also available as personalized ebooks. Personalized ebooks are available for download immediately upon order. To make these books especially unique, each ebook includes a free photo upload feature. Add a personalized dedication, and the result is a remarkable ebook that can be taken anywhere and read any time.
Celebrate Easter with personalized stories that will put a spring in everyone's step. Readers can personalize their selection by providing specific information like loved-one's names, features, even favorite drinks and places, and over twenty-five other unique characteristics to make their fantasy world a reality. A spouse, friends, family, and even a pet can be included, too. The result is a full-length personalized novel, available in ebook, paperback or hardcover, that can be further personalized with a customized cover and individual photo for the back cover, making this the most unique gift imaginable.
To purchase personalized books, readers go to the company's website at BookByYou.com and complete a character questionnaire specifying the information to be included in their book. The company offers a free demonstration area where readers can preview personalized excerpts from any of the company's teen, romance, mystery or children's personalized books.
BookByYou.com has received national media coverage and has been featured on ABC's The View, CNN, Fox News, The Wall Street Journal, Jimmy Kimmel Live and many additional media outlets.
BookByYou.com is an interactive publishing company and the world's largest provider of personalized books. Media interviews, promotions and give-aways are available upon request. Please contact Michael Pocock at 1-877-898-1440 or publish(at)BookByYou(dot)com