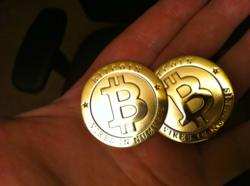 San Diego,CA (PRWEB) March 19, 2013
Gold Silver Bitcoin reports on IMF raiding of Cyprus bank accounts.
Citizens of Cyprus, known as Cypriots, are finding out that their duly elected representatives have now sanctioned theft of their private bank accounts.
President Nicos Anastasiades first proposed the wealth confiscation this last Friday. Under his plan, parliament would levy a 6.75 % tax from all bank deposits of 100,000 Euro or less and 9.9% on bank deposits of more than 100,000 euro.
"The solution taken may be painful, but it was the only one" worth taking said President Anastasiades in regards to his proposal.
This is the first time that the IMF and the Eurozone have actually dipped into people savings accounts. It is the next stage in austerity that is affecting the world as the banking plunder continues.
The purpose of banking holidays is to stop any runs that may occur on a bank by holders that fear the bank will not be able to make good on their deposits or for people getting their money out before it is revalued.
Cypriots are making every attempt to avoid this new tax by going to ATM's throughout the county to withdraw as much money as possible. However, with banks in the country being closed, it is unlikely that depositors will be able to get any sizable amount of their money out before it is too late.
Holders of gold, silver, and Bitcoin in Cyprus do not have this problem though as they have hard assets in their possession at any given time and can use those assets to barter and trade with.
For everyone else it seems that they will have a portion of their wealth taken from them because they choose to have their wealth in the wrong currency. With all government in the world facing fiscal crises like Cyprus sometime in the near future, this brand of wealth confiscation will evolve and continue. Hard physical assets do not have this problem.
Gold Silver Bitcoin "it's your choice"