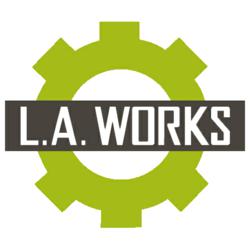 United Way of Greater Los Angeles is excited to partner with L.A. Works as we expand volunteer opportunities for our donors and corporate partners to make a greater impact in our community
Los Angeles, CA (PRWEB) March 19, 2013
L.A. Works, Los Angeles' premier volunteer center for community and corporate service, and United Way of Greater Los Angeles (UWGLA), today announced a partnership to expand and promote corporate volunteerism throughout Los Angeles County.
Under the new initiative, L.A. Works will leverage its extensive experience in creating large-scale corporate and community volunteer events to develop customized service opportunities for United Way volunteers. Additionally, L.A. Works will work closely with UWGLA to craft a strategic plan to mobilize and activate volunteers, deepen the volunteer experience, implement a system to recruit, manage and track volunteers as well as to train future leaders in volunteer engagement.
"Both L.A. Works and United way of Greater Los Angeles have long standing histories of strengthening local communities in Los Angeles," said Bob L. Johnson, co-founder of L.A. Works. "We believe our collaboration with United Way will help us meet the needs of the many nonprofits who work day-in and day-out in these communities. It's a win for the families who live in these communities as well as the entire Los Angeles community."
"United Way of Greater Los Angeles is excited to partner with L.A. Works as we expand volunteer opportunities for our donors and corporate partners to make a greater impact in our community," said Elise Buik, CEO and President, United Way of Greater Los Angeles. "Our donors and companies have shown tremendous interest in being able to give back to the community through hands-on activities and getting to know and help our neighbors in need. We look forward to working with L.A. Works and their vast resources and expertise to better serve our constituents and the people of L.A. County."
In the coming weeks, one of the first volunteer projects that L.A. Works will coordinate for UWGLA is its NFL Hometown Huddle at Daniel Webster Middle School with United Way Ambassador Nnamdi Asomugha, who has made the NFL's All-Pro team four times as a cornerback. During the event, volunteers will revitalize the school's outdoor recreation area, which includes painting a large world and U.S. map, landscaping and painting benches and tables.
Asomugha is Chairman of the Asomugha Foundation. He is a native of Southern California and graduated from Nathaniel A. Narbonne High School in Harbor City.
Throughout the year, NFL players and employees participate in various community service projects across the nation. NFL Hometown Huddle not only revitalizes the community through these service projects, but also brings awareness regarding the health and fitness issues impacting youth.
L.A. Works is a leader in the national service movement. Since 1991 L.A. Works has mobilized Southern California's corporate and community volunteer power by providing more than one million hours of service to diverse communities throughout Los Angeles County. L.A. Works provides critical infrastructure to hundreds of financially challenged nonprofits by providing resources and a trained volunteer leadership force. Each year, it coordinates thousands of Angelenos in monthly service projects, addressing issues such as: at-risk youth, education, hunger and homelessness, domestic violence, literacy, HIV/AIDS, assisting the elderly, environmental sustainability and animal welfare.
About L.A. Works
L.A. Works is a nonprofit volunteer action center that provides thousands of Angelenos with an opportunity to address pressing social issues through volunteer service. LA Works mobilizes volunteers; provides resources to nonprofits; and makes volunteering easy and accessible by: (1) coordinating meaningful volunteer opportunities for individuals and corporations with area nonprofits; (2) assisting nonprofits with recruiting, managing, and maintaining a volunteer labor force; and (3) educating Angelenos about the broader social and public policy issues affecting Los Angeles, and creating opportunities for civic engagement. For more information, visit: http://www.laworks.com
About United Way of Greater Los Angeles
United Way of Greater Los Angeles is a nonprofit organization that creates pathways out of poverty by helping homeless people move into housing, providing students with the support they need to graduate high school prepared for college and the workforce, and helping hard-working families become financially stable. United Way identifies the root causes of poverty and works strategically to solve them by building alliances across all sectors, funding targeted programs and advocating for change. For more information, visit http://www.unitedwayla.org.