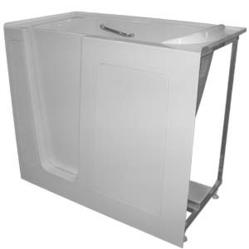 Thermal mixing valves now come standard on numerous walk in bathtubs and handicap shower stalls.
Denver, CO (PRWEB) March 19, 2013
Aging Safely Baths & More, a national provider of quality hydrotherapy walk in bathtubs announces they will now be offering customers a wider choice of senior bathtubs and handicap shower stalls that come standard with a thermal mixing valve (TMV).
Walk in tubs can be a welcomed appliance to the elderly and those aging in place, due to their enhanced safety features and ease of entry. One accessory that comes as an option on some of the more specialized senior bathtubs on the market, is a thermal mixing valve; more commonly known as an anti-scalding device.
These temperature control devices can help bathers set the temperature prior to entering the walk in tub or handicap shower. The valves, upon being set will allow just the right amount of cold water to mix with hot water, thus allowing the water that coming out of the faucet to be the desired temperature. Typically these devices can be set between 90 degrees and 120 degree Fahrenheit.
Thermal mixing valves are an additional safeguard bathers can utilize for walk in bathtubs and handicap shower stalls, which can potentially enhance safety features. These devices may especially be useful for bathers that have the loss of feeling in extremities, or those that have difficulty with fine motor skills and cognitive thinking. Senior bathtubs that have the anti-scalding already included can potentially save customers money versus buying it later.
According to Aging Safely, they will now offer several walk in tubs that come standard with these unique precautionary devices. Customers also have the option to purchase one of the senior bathtubs without a temperature regulating part if it isn't desired or needed.
Aging Safely also provides handicap shower systems that are designed to be more accessible for bathers that are wheelchair bound or those who have difficulty entering a walk in tub. Walk in bathtubs aren't always the right solution for everyone, sometimes bathers simply do not have the physical ability to enter a tub with their legs or support themselves physically.
In addition, several handicap shower stalls offered by the company will come standard with a thermal mixing valve; adding further security to temperature control for bathers that are looking for alternatives to walk in bathtubs.
Aging in place can look very different to many people; however many of the main objectives are the same across the board. For many retirees, making sure the home's bathroom is as safe as possible is top of the list. Not only is being able to access bathing important to keep the body clean, but it is equally essential to maintain a sense of independence and feel secure when taking a bath. Walk in bathtubs and handicap shower stalls can be an integral part to the aging in place puzzle.
Aging Safely Baths & More supplies senior bathtubs and handicap shower systems to all fifty states and Canada and are open to the public. Interested parties are encouraged to contact a customer care representative for a non-obligatory consultation regarding their specific walk in tub needs.
Contact Information:
Zach Wennstedt
1-888-779-BATH(2284)
info(at)agingsafelybaths(dot)com