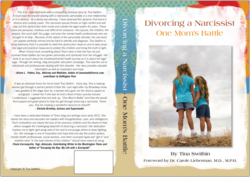 Effecting change within the judicial system is a monumental task. However, the system can improve with educational growth found within this unique insight presented by Tina Swithin.
San Luis Obispo, CA (PRWEB) March 19, 2013
On bookshelves for just three short months, Tina Swithin's new book, "Divorcing a Narcissist" has gained international attention with a recent interview in Glamour Magazine (Latin American edition) and a subsequent interview with the University of Sydney Australia.
Tina has recently appeared on shows such as "Dr. Carole's Couch" with world-renown psychologist, Dr. Carole Lieberman, Candace Smyth's Northstar Series and on "Courageous Conversations" with Sandy Weiner. Tina's book and blog have been featured in outlets such as the Examiner, About.com, Yahoo, Huffington Post and the Washington Times. Tina is a bi-weekly contributor for the Huffington Post Divorce and HopeAfterDivorce.org where she delves into the tricky world of divorcing a narcissist with both advice and inspiration.
Recent Reviews on Amazon:

Effecting change within the judicial system is a monumental task. However, the system can improve with educational growth found within this unique insight presented by Tina Swithin. She has demonstrated an unusual inner-strength by sharing her personal experiences. Instinctually protecting ones children is generally expected, but to document, interpret and share the results in such a manner is nothing less than extraordinary. It is much more important to possess character rather than to be a character. You, my friend, have continued to demonstrate the depth of your character in such a classy way. Congratulation and job well done!
If you are going through the nightmare of Divorcing a Narcissist you MUST read this book!!! When I received this book, I read through it on one sitting, and then read it again, and again. Tina's Blog and Book were recommended to me by my DV counselor, and I am so thankful for that. I have found such validation, inspiration and strength through Tina and her story. I found myself in tears as I read what so much sounded like my own story and nightmare. (I find myself wondering of some evil villain has a Narc Cloner set up in his garage!!) Truly, I am NOT alone, and it is NOT my fault! The system is screwed up and distorted even more by these master manipulators, as frustrating as it is, that too is NOT about ME. Thank you for inspiring and encouraging me to continue the fight. I am just at the beginning of my uphill battle, and it looks to be a LONG arduous one for my baby and me. I know there will be the low times no doubt, but I will continue to read and re-read this whenever I find the need for strength. BUY THIS BOOK, it will help SAVE you and your sanity. Thank you Tina! You are an angel and your book is a true blessing.
Tina's story takes you on a painful yet accurate journey into the world of a narcissist! This lady has inspired me personally on so many levels and this book has been an invaluable resource for me! I had no idea that there were so many people fighting the same battle. She truly has been my "voice" when I didn't have the strength to find my own. This is A MUST READ! Thank you Tina for being the brave and courageous light for so many of us who are stuggling in our own darkness.
Click here for additional Amazon reviews
Message from Actress Christie Brinkley: It was an absolute honor for me to meet Tina Swithin. Every day, Tina is helping women get through a painful period of their life. Last night after my Broadway show, I was greeted at the stage door by a woman who gave me her divorce papers to autograph. I asked her if she was ok and a flood of tears quickly ensued. I understood. I suggested that she look up, "One Mom's Battle" and that she would find support and great advice to help her get through divorcing a narcissist. Thank you, Tina for creating a wonderful resource to share!!!!
Bio: Tina Swithin is a "warrior mom" who has gained international attention in 2012 by documenting her journey through the family court system with her prolific and engaging blog, "One Mom's Battle." Tina resides in San Luis Obispo, California with her husband and two daughters. Tina is available for interviews, guest blogging opportunities or book signing events. If you are interested in doing a book review on, "Divorcing a Narcissist," please contact Tina directly at tina (at) onemomsbattle (dot) com. You can also connect with Tina on Facebook or Twitter @onemomsbattle