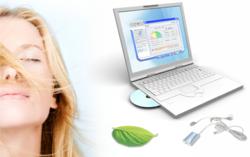 New Stress Sweeper features a stress reduction game that a whole family can enjoy.
Seattle, WA (PRWEB) March 20, 2013
The team behind Health Reviser, a scientifically validated software application designed to monitor and track health and fitness changes, has recently announced the new version of the Stress Sweeper – Health Reviser training module. The updated module features health-improving and stress-relieving game. Based on controlled relaxation breathing with continuous biofeedback, this game is developed to improve mental health and reduce stress with the help of relaxation and breathing exercise.
Application uses pulse wave USB or Bluetooth sensor that can be attached to the ear lobe or fingertip to collect physiological information from the body. Heart Rate Variability (HRV) Analysis is then applied to measure the response of the autonomic nervous system on user breathing. Users can see their score in real-time, reflecting the effect of their breathing during the stress reduction game. Stress Sweeper features multiple levels with smooth progression into difficulty. With this release, users will be able to challenge others with their scores.
The module displays the results in the form of user-friendly graphics on the computer screen. Step-by-step screens with simple instructions make Health Reviser equally useful for medical professionals as well as general users with little or no professional medical knowledge.
Used by the application HRV science has been successfully used as a screening tool in many diseases, including diabetes and heart diseases.
"Breathing exercise featured in Stress Sweeper has long-term effects on stress immunity and blood-pressure," – says Alexander Bandarchuk, VP of Engineering of Health Reviser. "Also, many users reported excellent sleep time and improved mood after using our relaxation module."
Health Reviser has a total of five modules. Fitness Test is designed to assess functional fitness level, target heart rate zone, track fitness progress over time. Stress Monitor is a real-time stress monitor. Biological Age calculates user body's age from physiological response of the organism. Health Snapshot captures user health states daily and calculates health trends. And the new version of Stress Sweeper module features breathing and relaxing exercise. It calculates the accuracy of a user's breathing pattern and designed to help learn relaxation breathing.
Learn more about Health Reviser http://www.healthreviser.com
About the Creators
Health reviser was created by a team of software and hardware development engineers, skilled therapists and medical doctors. The team has more than 17 years of experience in the development of health monitoring and diagnosis systems. Health Reviser was created as a product that is affordable and usable for professionals as well as consumers with a lack of medical knowledge.