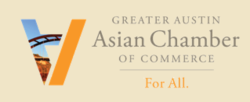 I am excited to be a part of this unified organization and warmly welcome Rashid as the new Chairman and Marina as the new Executive Director for 2013. ~Anurag Kumar
Austin, TX (PRWEB) March 19, 2013
The Greater Austin Asian Chamber of Commerce (GAACC) board of directors announces new leadership in several executive chamber roles in serving the Asian and Pacific Islander community, which isthe third largest and fastest growing minority population in Central Texas. Rashed Islam was elected Chair ofthe Board of Directors in December, 2012 for a two year term. Islam is Vice President and Managing Principal at HDR Engineering, Inc. Immediate past co‐Chairs Ali Khataw and Jim Yatsu will remain on the Board's Executive Committee, serving with Treasurer Sam Bakir and Secretary Dan Warth. Paul Kim recently joined the board. Other board members include Deepak Burman, Ge Chen, Daniel Chi, Catherine Crago, Anurag Kumar, Schiller Liao, Ying McGuire, Al Nanji, Peter Shen, and Michele Tran.
Anurag Kumar, CEO of iTexico and a Board member of GAACC said "I am excited to be a part of this unified organization and warmly welcome Rashed as the new Chairman and Marina as the new Executive Director for 2013."
The GAACC 2013 programming slate includes:
-Connecting small businesses with corporate and government supplier diversity officials
-Supporting job creation by engaging global and national site selection teams
-Recruiting Asian firms to Austin through outreach, education, connections, and
-Strengthening economic ties in the community‐at‐large through networking and other events
To execute these plans, GAACC has hired Marina Ong Bhargava as its Executive Director. Bhargava brings years of experience working with large and small corporations, in plastics manufacturing and consulting services, and in community economic development. Previously, she was the Business Development Director at the Multiethnic Education & Economic Development Center in Dallas, a non‐profit business assistance center that supports underserved micro‐enterprises. There, she was awarded the 2009 Minority Business Champion by the DFW district of the Small Business Administration. Bhargava holds Bachelor's and Master's degrees in economics from Northwestern University.
"2012 was the year of the historic creation the Greater Austin Asian Chamber of Commerce, a merger of the Austin Asian American and Texas Asian Chambers of Commerce. As the new Chair, along with our new Executive Director and board members, we look forward to contributing towards the economic vitality of Central Texas. We are glad to have Marina and Paul; their respective experiences will enable us to successfully implement our new programs for members and businesses in Austin," said Rashed.