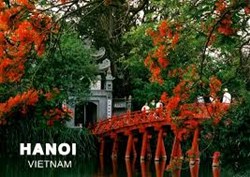 Tourists can get access to the website to book a tour and get attractive offers from Smile Travel Vietnam.
(PRWEB) March 20, 2013
Spring is the best time to visit Hanoi, the capital of Vietnam. Known as one of the most beautiful tourist attractions in Asia, Hanoi attracts international tourists all over the world. To meet the increasing need of travelers, Smile Travel Vietnam – the leading travel company in the country has launched a big promotion. Accordingly, tourists booking tours in Hanoi will get a great deal, discounting up to 50%. Besides, they are offered a free Vietnam visa when booking tours, hotels, and flight tickets on the website of Smile Travel Vietnam.
Known as the second largest city in Vietnam, Hanoi is a fascinating blend of East and West. This beautiful capital is situated in the center of the triangular basin of the Red River. With the total area of 920 square km, Hanoi is now the center of economy, politics, culture, and society of Vietnam.
Hanoi is famous for numerous rivers, lakes, and mountains. There are various enchanting places for sight-seeing such as Tam Dao, Con Son, Kiep Bac, and so on. Hanoi is also well known for the typical tropical weather of South East Asia with four seasons: fresh, green and cool in Spring, a bit hot in Summer, fine in Autumn, and cold in Winter.
One of the most visited places in Hanoi is Hoan Kiem Lake, also called Sword Lake. Located right in the middle of the capital, Hoan Kiem Lake is known as the symbol of history, culture, and tradition of Vietnam. On a corner of Hoan Kiem Lake is Ngoc Son Temple, which is long-standing and sacred. Many foreign tourists say that they feel like the cool and fresh air is the greatest desert after a busy time when walking around Sword Lake in the early morning.
Many historians affirmed that the city was established more than 1,500 years ago. Therefore, Hanoi has a very rich culture, historical and traditional values.
Hanoi itself means "the city interior the river" since it is surrounded by the Red River. The weather is especially great in spring and autumn. There are a large number of historical spots for tourists to visit. The Temple of Literature can be taken as an example. As the first university in Vietnam, the Temple of Literature maintains many historical and cultural values. Indeed, there are hundreds of tourists visiting the place every day.
In fact, Hanoi is more antique and peaceful than it sounds. This might be seen when tourists try to take a walk around its Old Quarters. This is a typical characteristic of Hanoi with small old streets and tube houses which still remain their shape from 19th century. Additionally, the beauty of Hanoi in the past is also found in the ancient citadel, which is located nearby.
Besides, Ba Dinh Square and Ho Chi Minh Mausoleum are also worth visiting. It is the political area where President Ho Chi Minh read the Independent Declaration on the September 2nd, 1945. In addition, tourists can pay a visit to the House of Parliament, Presidential Palace, President Ho Chi Minh Mausoleum, and so forth.
Mentioning about Hanoi, people never forget to talk about its unique culture. The most famous cultural thing of the city is a series of traditional handicraft villages such as Bat Trang ceramic and pottery village, Hang Bac silver-making street, Ngu Xa bronze-making, Phu Do noodle-making, Yen Phu incense, Ngoc Ha flower, and Dong Ho picture villages. All of them have existed for centuries and are still famous for their hand-made and nature-originated products.
Hanoi people are extremely good at making and tasting food. They have many delicacies; for example, Banh cuon (steamed rice roll), Cha ca La Vong (La Vong grilled fish), Pho (noodle) with chicken or beef, Nem (spring roll), and so on. People say that this is the most attractive thing for foreigners to come and feel a "special Hanoi through Hanoi specialties".
To visit such a great place in Asia, tourists just book a tour with Smile Travel Vietnam. With big offers, tourists will experience great things during their trips. Smile Travel Vietnam provides different tours in Hanoi, depending on customers' requests. At present, Hanoi – Ha Long package tour in 5 days and nights is discounted by 35%. Tourists can get access to the website and book a tour. It is sure that they will get attractive offers from Smile Travel Vietnam.