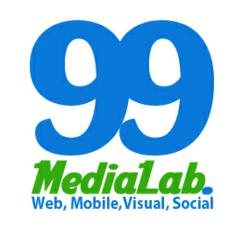 Our designs and services are memorable, relevant and help you stand out from the crowd.
Stafford, VA (PRWEB) March 20, 2013
Officials with 99MediaLab LLC (http://99medialab.com/) announced today that it has reached a new milestone by landing its 100th client.
"We're extremely excited about this new milestone," said Piyush Mangukiya, managing partner of 99MediaLab, a full service web design and digital marketing company developing websites, performing Internet marketing and implementing SEO strategies for small businesses, startups, brands, causes and celebrities. "With the economy still trying to rebound across the globe, it's not only an honor, but a true blessing to be on the upswing with new clients knocking on our door for our expertise."
Mangukiya pointed out that the company, which is a Google Adwords Certified Partner, and clients include: MonsterHousePlans.com, GlucoBuddy, Brandify, Chicago Public Schools, EduNova, Retina Care Consultants, GolfTeesEtc.com, EosHealth, Toyota, and more.
The managing partner went on to explain that 99MediaLab provides its clients with a wide range of services, such as website design and development, enhancing online marketing exposure, mobile apps and social media marketing, logo design, copywriting, video production, print design, and proactive website support.
"Our web design and development team delivers the most attractive and functional websites to give you a magnetic presence on the web," Mangukiya stressed, before adding, "Proficient with the latest web design and development technologies, our teams combine their creativity with technology to create websites that create your online success."
99MediaLab LLC, according to Mangukiya, believes that if anyone owns an ecommerce website, their website must be so good that it beats the competition.
"Let us create a package for you which distinguishes your brand's brilliance," said Mangukiya. "Our designs and services are memorable, relevant and help you stand out from the crowd."
Mangukiya warned business owners to remember that they are not the only player in the industry.
"You need to reach your target market in a faster and better way than your competition. That's exactly what our online marketing helps you do," Mangukiya promised. "We use proven online marketing strategies and techniques to get traffic to your site, boosting your sales and profit."
For more information, please visit: http://www.99medialab.com/web-design-development/small-business/, http://www.99medialab.com/mobile-apps-and-websites/, and http://www.99medialab.com/online-marketing/search-engine-optimization/
About 99MediaLab
99MediaLab LLC is an industry leader in the world of website design, internet marketing, app development, print design, search engine optimization, and all-around digital marketing.
With our Web Design, Development, Marketing and Branding services, we can take your business to the next level.
Our teams work together to develop websites that are not only visually compelling, but have the functionality and advanced programming to deliver leads, clients and revenues.
Contact Details:
99MediaLab LLC
115 Onville Road, Suite 201 Stafford, VA 22556
Tel: (703) 563-2571