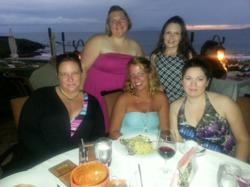 Telecommuting works when you have trust, respect and communication." - Jennifer Varner, founder & CEO, Pure-Ecommerce.com
Maui, HI (PRWEB) March 20, 2013
Jennifer Varner, Founder and CEO of Pure-Ecommerce.com, meets members of her virtual team for the first time!
The telecommuting debate has been raging ever since Yahoo CEO Marissa Mayer's recent proclamation to end telecommuting at the company this June. As founder and CEO of Pure-Ecommerce, a company that has 100% virtual employees, Jennifer Varner sees the merits and the successes of telecommuting for small businesses like hers. Varner says "it works when you have trust, respect and communication."
Jennifer's ecommerce company is built on mutual trust. In exchange for the opportunity to be there for their children when they need them and to experience those once-in-a-lifetime mommy moments, her employees are willing to do whatever it takes to get the job done --- even if that means working into the wee hours of the night and on weekends. Her employees see the advantages of being able to balance their work lives and their personal lives by telecommuting. All of Varner's 22 employees are moms. Noel Vermiere, Client Consultant for Pure-Ecommerce and a Florida mom of two says "Being a virtual employee allows me to be home and take care of my children as needed. When I was working full-time outside the home I would have to take sick/vacation time to take them to doctor's appointments or attend school events. Now, I am able to work around my children's schedules and needs. It is a great feeling to be able to know I can be there for my children while balancing the requirements of my role at Pure-Ecommerce."
In 2009 when Jennifer was diagnosed with breast cancer while pregnant with her 4th child her employees took over the company and told her not to worry about any issues. During the subsequent three years she underwent chemotherapy, radiation, and several surgeries before being declared cancer free, Jennifer's employees frequently would tell her "we'll handle it."
Some might find this hard to believe but it was only this past January, on the 6th Anniversary of the company's founding, that Jennifer met four of her 22 employees. In celebration of the company's success, she surprised her longest tenured employees with a trip to her home in Maui, Hawaii. These women had stood by her through thick and thin—especially while she was battling cancer. Amber Layton, Lead Designer for Pure-Ecommerce and a single mom of three living in Eastern Washington State, has worked with Pure-Ecommerce for five years. Amber shared about the meeting, "We've been working virtually side by side for nearly five years; in that time we've shared more than just work. We already knew so much about one another, we've shared personal stories and trials, family photos, and our personalities over the years. At the risk of sounding corny, meeting everyone felt like a family reunion. Meeting in Maui was icing on the cake."
Jennifer believes another key to the success of the telecommuting relationship is respect. She says hiring through telecommuting has helped her broaden the job candidate pool by leaps and bounds and therefore, her virtual team is the best of the best. Varner's team also has incredible respect for Jennifer. One employee shares," Pure-Ecommerce is a unique company, constantly growing and improving to meet the needs of clients. I'm able to put my creativity and ideas into play every single day. It's exciting to be part of that and to have the opportunity to further build upon this foundation that Jennifer has created. We're all vested in the success of this company."
Advances in technology are also what allow the Pure-Ecommece team to live in four different time zones (across the US and Canada) and still communicate successfully. Yahoo's Mayer and other opponents of telecommuting say that communication breaks down when people aren't in the office for face-to-face communication. Varner and her employees have found having Facebook Groups, shared files, Instant Messaging and other technologies help them stay in touch with one another. And while some telecommuters worry about feeling isolated working from home, Pure-Ecommerce's team (most of whom have also never met one another) find great support and friendship from their virtual colleagues. Another employee shared, "We work hard but we also have a good laugh (and cry) with one another. There is a sense of sisterhood amongst all the women who work Pure-Ecommerce. Perhaps because of the nature of being a virtual company, we seek support and camaraderie. We share when we have a good or bad day, our kids are sick, when our kids win awards, when our relatives pass away. Maybe because we are not in a formal office setting we feel safe to talk about our personal lives."
Amber Layton perhaps summarizes the reason why telecommuting works for Pure-Ecommerce. She says "Jennifer practices what she offers to her clients. She has built an empire around helping people work from home, and the fact that all of us do just that only underscores her commitment to this lifestyle."
###
About Jennifer Varner and Pure-Ecommerce:
Jennifer Varner started Pure-Ecommerce (based in Cary, NC) in 2007 after running one of the largest online maternity stores, Bella Blu Maternity. She sold BellaBluMaternity to focus on her newest passion – helping other women become online entrepreneurs through Pure-Ecommerce. Her award-winning 10-step consulting process touches on every area an entrepreneur has to know about to run a successful online business. This year, Pure-Ecommerce celebrates its sixth anniversary and has helped nearly 600 people in the US and Canada start their own e-commerce businesses.
Jennifer and Pure-Ecommerce have been featured in several national magazines and websites such as Entrepreneur, Women Entrepreneur, Forbes and Success as well as on NBC/CBS, and Fox/CW morning television programs. Jennifer Varner was selected in 2010 and 2012 as one of Startup Nation's Leading Moms in Business and has been chosen as an Honorable Mention recipient for the 2013 Enterprising Women of the Year Awards.