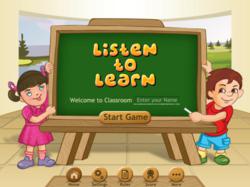 (PRWEB) March 20, 2013
Dev IT Solutions understands that English Language has become to most important global language in today's time. English has become a medium of communication throughout the globe and it is the key to globalization. Schools and coaching classes throughout the world are emphasizing on the importance of English Language as its importance it not limited to the educational years but also in the professional life. English language gives freedom to every individual to settle in any part of the world and establish a successful life.
The team at Dev IT Solutions is extensively working towards enhancing the technology and provide the best in class English teaching mobile applications for various platforms like iPhone, iPad & Android and the company is also planning to launch its first set of educational mobile applications on other platforms such as Blackberry, Symbian & Windows. It is a well known fact that kids who have computers or tablets at home are easily able to grasp the depth of subjects like English, Math & Science. All English teaching applications launched by the company have helped many individuals to learn the language easily and communicate confidently.
During a recent press conference, a senior spokesperson from the company said, "We are proud to announce the launch of these unique and innovative English teaching mobile applications. These applications have not only helped young kids but also adults to get a better understanding of the world's most important language. For now these English teaching applications are available for iPhone, iPad & Android devices but the company will soon launch these apps on other platforms such as Blackberry, Symbian & Windows as well. Below are the names of our English Teaching Applications which have gained tremendous popularity within the last quarter.
1. Listen To Learn - My First Thousand Words
2. Kid's English Classroom
3. Improve English With Antonyms
4. Improve English With Synonyms
5. Learn Alphabet With Cursive Write
6. Angry Teacher In Taiwan
All the above applications are available for iPhone & iPad on iTunes and for Android devices on Amazon Kindle Fire & Google Play Store.
For more information, please visit http://www.devitsolutions.com/devitmobileapplication/
About Dev IT Solutions:
Dev IT Solutions is one of the leading companies providing cutting-edge solutions for Mobile Application Development on various platforms. It has a dedicated team for Development of Mobile Applications i.e. iPhone Application Development, Android Application Development, Blackberry Application Development and Window Mobile Application Development.
Contact:
Dev IT Solutions Pvt. Ltd.
A-302, Shapth Hexa, Opp. High Court
S.G. Highway, Sola - 380060
1-760-621-3474
Email: info(at)DevITSolutions(dot)com
iPhone, iPad are trademarks of Apple Inc., Android is a trademark of Google Inc., Blackberry is a trademark of RIM Inc., Windows is a trademark of Microsoft Inc.