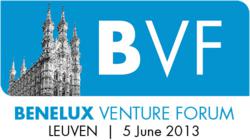 Brussels, Belgium (PRWEB UK) 19 March 2013
The Benelux Venture Forum (BVF) challenges the most promising entrepreneurs in high tech sectors from the Benelux region to come and present their business proposals to active international investors and corporations seeking investment and partnerships. The BVF has been seen as the foremost catalyst for innovative, high-tech start-ups seeking international investment capital. The 13th edition of the Benelux Venture Forum (BVF) will be held on June 5th, 2013 in Leuven, Belgium.
Become part of the Top 40 most promising early stage companies in the Benelux
Companies from across the technology spectrums of life sciences, cleantech and information technology that are based in the Benelux can apply to compete to become one of the 40 selected companies. The final 40 will be chosen from a pool of over 100 applicants with the aid of a selection jury of venture investors. Participate or present. Selected companies will not be charged to apply or present.
Registration
Applicants can register for the event at http://www.e-unlimited.com/register/register.aspx?events_id=463. As part of the process applicants must submit an online company profile and presentation together with the registration form.
The deadline for applications for presenting companies is April 5th.
Investor Jury
The Investor Jury already includes 50 investors from among others Acton Capital Partners, Aster Capital, BASF Venture Capital, Capricorn Venture Partners DSM Venturing, Forbion, GIMV, IRIS Captial, etc. For a full list of jury members, please visit: http://www.e-unlimited.com/events/view.aspx?events_pages_id=1673
Applying for the Benelux Venture Summit:

No charge for selected companies to attend the event
A 15 minutes timeslot to present your business proposition
A strong panel of investors and a relevant audience
Company profiles & presentations are reviewed selected by an investor jury based on their business potential, team experience, product / technology merit, competitive position and investment or partnering interest
Selected companies will be presenting to an international investor jury composed of Venture Capital and Corporate investors, Business Angels and relevant key industry players
Opportunity to meet face to face with investors through pre-arranged One2One meetings
A chance to be awarded as one of the best 12 presenters and continue to European Venture Summit
Fee access to the Presentation Dry Run (June 4) where experienced coaches help you prepare
About Benelux Venture Forum
The Benelux Venture Forum is an initiative of Europe Unlimited and is hosted by Capricorn Venture Partners, Leuven.Inc, imec and KU Leuven R&D and supported by Agentschap Ondernemen, Flanders in Action (Vlaanderen in Actie) and iMinds.
The general theme of the Benelux Venture Forum 2013 is 'Cross-border venture investment'. In addition to the presentations made by the various presenting businesses, the programme will be complimented with keynote speeches, panel discussions and workshops on business model innovation and attracting investment, also from other sources of funding such as informal investors, corporate investors and loan and guarantee schemes.
About Europe Unlimited
Founded in Brussels in 1998, privately-owned Europe Unlimited S.A. provides event and online matching platforms between emerging innovative companies and investors across Europe and its regions, sectors and stages. Its clients are governments, public-private clusters, corporate and financial investors as well as advisory firms.