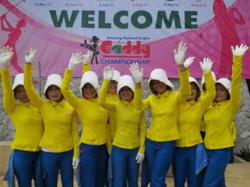 Major Golf Fam Trip to play 450 holes in Thailand.
(PRWEB) March 20, 2013
As hosts of the 2013 Asian Golf Tourism Convention (AGTC), the Eastern Seaboard Golf Management Association (EGA) will be providing rounds of golf for over 300 delegates at 19 local courses. Delegates will be able to play at some of Asia's top golf courses before and after the Convention being held at the Royal Cliff Peach Convention Centre from April 29th-May 2nd 2013.
Pattaya, who won Golf Destination of the year 2012 for Australasia and Asia voted by the International Association of Golf Tour Operators (IAGTO), will now be the centre of attention when over 500 tour operators and suppliers meet at the AGTC.
Several local courses already host major golf tournaments including the Thailand Golf Championship, the Honda LPGA Thailand Open and the Pattaya Open.
The Mayor of Pattaya, Ittipol Khunpluem said,' With the likes of Yani Tseng, Tiger Woods, Bubba Watson, John Daly, Sergio Garcia, Michelle Wei and Lee Westwood all competing here, our courses get a massive amount of global TV coverage. The potential with all these important tour operators being here will I am sure increase the number of future golf vacationers dramatically.'
Mike Mesommonta President of the EGA added,' we have been inundated with a huge number of requests by the AGTC delegates to provide tee times to play our courses. We are lucky we can offer perfect playing conditions 365 days a year, so we expect the 450 holes covering an incredible 155kms offered by our members to be extremely busy during the convention.'
Apart from the top stars in the industry enjoying the local courses, Pattaya also organisers a unique tournament every year. In September 2013 international TV will be at the Siam Plantation Old Course who will host The 4th Singha TAT Caddie Championship, when Thailand's top 144 caddies will compete with a select number of international caddies for the ultimate crown "Caddie of the Year".
Peter Walton CEO of IAGTO, is also supporting the Caddie Championship by encouraging its member golf associations and tourist boards in Asia to send a team of caddies. "Caddies are an integral part of the golf experience in Asia and IAGTO is delighted to support the efforts of the EGA to give caddies such a great opportunity and something to aspire to, "said Walton.
It is hoped that caddies from China, South Korea and Indonesia will be able to travel to Pattaya to compete against their Thai colleagues.
Pattaya's golf portal http://www.playpattaya.com provides full information on the region.