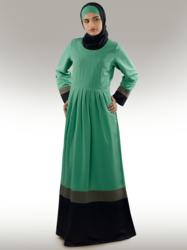 Any size, any length; we costomize for you.
(PRWEB) March 19, 2013
MyBatua.com is a one stop shop for the Muslim community that gives the option of shopping for Islamic shopping from the wide range of selections. MyBatua has gained the reputation of being the leading manufacturer and supplier of Islamic fashion. The Islamic clothing Abaya, Jilbab and Thobe are available for men, women and children. Apart from the clothing, there are also accessories that can enhance the beauty of the women.
MyBatua.com has not limited themselves to selling Islamic clothing to only individual buyers; the online store has also started focusing on wholesaling. Buyers can get huge discounts with a wholesale purchase, for wholesale discounts are given based on the amount that buyers purchase. The wholesale buyers can even give their order through email.
With the introduction of the wholesale concept, MyBatua desires to reach more customers and create a positive impact in the life of men and women. With the launch of "Wholesale", the leading manufacturer of Islamic clothing has started taking orders in bulk. When buyers are planning to get an order in bulk, they can take advantage of enjoying the "discount" facilities.
Wholesale widens the market and makes MyBatua reach more customers who are unable to access the online store. Wholesale buyers can have a complete view of the discount structure and make purchases online. Also, orders can easily be shipped by courier and other modes.
MyBatua.com offers shipping facilities to not only the USA, UK, Germany, Canada, Spain, Switzerland, Hong Kong, Denmark, Belgium, France, Italy and Netherlands, but also to all the countries in the world. There are minimal shipping charges offered by the online store and the manufacturer takes complete care of the products, so buyers can be assured they are getting their products safely. The online store takes 15-30 business days to ship the order and help with the safe delivery of the ordered products.
MyBatua.com offers a complete service to all over the world that helps stores to reach the heart of every customer. There are coupon codes offered based on the customers' needs that minimizes the cost of the clothing. The customer just needs to create an account and enter the coupon code to avail the desired discounts and complete the buying process. The customer can take the help of the internet and visit the website and look into the wide variety of collections that portrays the beauty of the Islamic fashions.