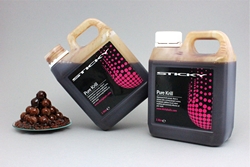 Sticky Baits have marketed and tested this product very well, I've never known such a demand for a new bait
Bolton, Lancashire (PRWEB) March 19, 2013
The much anticipated range by Sticky Baits is now available from Carp Baits Online store and website.
The Krill has taken the fishing world by storm with lots of different bait manufacturers using this natural product to create and launch new bait ranges.
Krill are tiny crustaceans which live in the sea.
"Sticky Baits have marketed and tested this product very well, I've never known such a demand for a new bait." said Dan Robinson, Director of the bait retailer.
"The traffic to our website and in particular to our Sticky Baits section has increased by 76% over the last few weeks."
Contrary to popular belief Krill is not a new product used in fishing bait production and has been around for years.
Similar products (which contain Krill) like L Zero 30 and Aminol have been available for some time.
But the raw ingredients for these baits are proving to be more expensive due to cosmetic companies taking an interest and therefore driving up the cost.
The Krill is available in shelf life and freezer boilies as well as matching pop ups, pellets, glug, dumbells and the very popular krill liquid. The boilies retail at £11.99, pellets are £4.99 for 900g and the Krill liquid costs £11.99 a litre.
"I often use the Krill liquid on my local water and can't wait to get out there now the weather is improving. The Krill liquid and pellets really make a difference. I'm looking forward to trying the rest of the range." Commented Dan.
As Carp Baits added the Krill range to their website they decided to conduct a survey at the same time and asked their customers many questions about the Krill bait as well as questions about their website.
One vital piece of information highlighted by the survey was that their customers sometimes found it difficult to find certain products due to their large range of over 3000 items. In response to this Carp Baits Online looked at their competitors and also other popular websites.
In answer to this issue a new horizontal menu was added. It features 'quick-links' to the most popular sections and if you hover over a particular category all the sub-categories within it will display. This makes it much easier to navigate to the section required.
Some other really useful information highlighted by the survey was that Carp Bait's customers wanted to know when a product would be back in stock.
"We thought this was a great idea and as soon as we found a few people asking for this service we had a look around to see what was available." Said Mainline Baits supplier, Dan
Carp Baits Online website runs on the platform known as Zen Cart and a compatible 'back in stock' module was added.
"This is a superb feature which allows our customers to register an interest in a product. They simply fill in their name and email address and when the product is back in stock the site notifies them by email" said Mr Robinson, retailer of Mainline Baits.
"Not everyone buys after making an enquiry but some do, this means when we stock a new line we have a good chance of selling it" added Daniel.
Another of Carp Bait's survey questions was: What forums do you visit? The most popular answer being 'The Carp Forum'.
"We've wanted to advertise on The Carp Forum for some time and jumped at the chance when the banner slot became available"
"I first made an enquiry over eighteen months ago but the slot had been booked by a competitor" added Dan.
Mainline Baits supplier, Carp Baits Online offers the forum members 10% off their first order and 5% off their second. The members qualify for the discount by entering a code when they reach the checkout. Members also benefit from rewards points each time they place an order.
"The discount code system works really well and helps us identify what advertising is working" said Nutrabaits supplier, Dan.
Carp Baits was started in 2009 by Dan Robinson and Andy Roberts. Based in Bolton, Lancashire within the Bolton Enterprise Centre on Washington Street.
Mainly supplying carp bait by Sticky, Nutrabaits and Mainline as well as other popular brands.
"We aim to provide lots of choice, speedy service and good communication to our customers. We'd like very much to turn them in to regulars" said Nutrabaits retailer Dan.
The online retailer has a staff of three which includes Dan, Andy and Dave and sells locally, nationally and even internationally.
"It took us by surprise the number of orders we started to receive from Europe and even further a field. I guess if it's your hobby and the product isn't available in your country then people will buy it from us" said Dan
Press release by Bolton Web Designers Vizcom Design