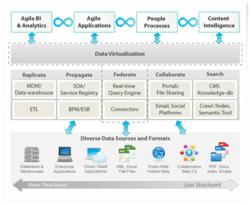 "Denodo Platform 5.0 will be remembered as a watershed moment in the evolution of Data Virtualization for its technology innovation and its impact on global enterprises in achieving information agility" Angel Viña, CEO, Denodo
Grapevine, Texas (PRWEB) March 19, 2013
Gartner Business Intelligence & Analytics Summit, March 19, 2013, Grapevine TX, Booth #224-- Denodo Technologies, the leader in data virtualization, today announced the immediate availability of the Denodo Platform 5.0. The latest version of Denodo's award winning data virtualization solution is the industry's first technology platform that opens data virtualization to broader enterprise-wide use across agile business intelligence, Big Data analytics and agile development of connected applications for enterprise, web, cloud, and mobile platforms.
"Denodo's new platform clearly shows how mature and feature-rich data virtualization products are becoming," said Rick F. van der Lans, Managing Director of R20/Consultancy and author of Data Virtualization for Business Intelligence. "This new platform also demonstrates that data virtualization is not only for the BI domain. For example, Denodo's linked data services makes it possible to consume data entities as easily as browsing the Web. Another useful new feature is that enterprise information managers can use any data modeling tool to query the platform and discover entities and relationships or linked data in the virtual data layer."
This new version enables organizations to abstract and expose all of their current and emerging information sources including databases, applications, Big Data, cloud and unstructured sources as canonical business entities, expressed as linked data services that are easy to discover, consume and govern. Denodo Platform 5.0 responds to the direct needs of our global customers taking data virtualization to new heights of business-driven IT agility and increased return on data assets by adding key capabilities:

Agile BI and logical data warehouse solutions benefit from improved source connectivity to traditional, analytical and NoSQL data sources, new performance optimizations, and a new state-of-the-art caching system, backed by scheduled pre-fetch and data movement/ETL when needed.
Agile application development becomes dramatically easier with linked data services. In its RESTful form, it also improves the user experience for mobile and cloud apps by enabling individuals to search, query, or browse real-time information seamlessly across the enterprise.
Improved Hadoop and NoSQL connectivity and abstraction enables advanced analytics that are typically locked in these complex platforms to be exposed across the enterprise for expanded uses.
Unified data governance brings top-down and bottom-up virtual models together enabling contract-first development which can be integrated with top data quality and data management tools to deliver the most granular and customizable data services security available today.
"Denodo Platform 5.0 will be remembered as a watershed moment in the evolution of data virtualization for its technology innovation, but more importantly for its impact on global enterprises in achieving information agility in the face of data volume, diversity and complexity challenges," said Angel Viña, CEO, Denodo Technologies. "Reusable linked data services are becoming critical for organizations to increase business agility, and to broaden and scale their use of data virtualization. In fact, leading global customers are using it today for agile & self-service BI, logical data warehouses, embedded product analytics; Big Data & cloud abstraction; and to integrate unstructured and semi-structured information with enterprise data."
About Denodo
Denodo is the leader in data virtualization. The company provides unmatched performance and unified access to the broadest range of enterprise, Big Data, cloud and unstructured sources. Denodo offers the most agile data services provisioning and governance solutions at less than half the cost of traditional data integration offerings. With reference customers in every major industry, Denodo users have gained significant business agility and ROI by creating a unified virtual data layer that serves strategic enterprise-wide information needs for agile BI, Big Data analytics, web and cloud integration, single-view applications, and SOA data services. For more information visit http://www.denodo.com, follow Denodo via twitter@denodo or contact us to request an evaluation copy at info(at)denodo(dot)com.