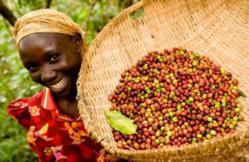 coffee doesn't follow a traditional free enterprise framework; rather, it has as much social costs as economic factors behind this industry
New York City, NY (PRWEB) March 21, 2013
How much do American consumers know when they see the Fairtrade label? The latest article, "Why Fairtrade Should Matter to You" published by FinancesOnline.com hopes to tell them more, explaining why despite the $18 billion spent in the U.S. on coffee last year, the current situation of many coffee farmers is still that of dire poverty.
The article poses a question of how could a multi-billion-dollar global industry be a losing business for the growers, whose hands till the land from where coffee starts? About as many people in the world as the entire population of China drink coffee every day. It is the world's number two most traded commodity. And yet....
Arguably, the answer is because coffee doesn't follow a traditional free enterprise framework; rather, it has as much social costs as economic factors behind this industry. The good news is consumers, from where coffee ends, justifying the supply chain, can help improve the farmers' lot.
The article spells out the insights and recommendations of the UK-based Fairtrade Organization, the international body that manages the Fair Trade seal. Being a non-government organization, it guarantees that coffee farmers get a minimum profit by binding traders, roasters and big coffee houses to its policy. Whether it is meeting its goals for the farmers, the Fairtrade advocacy is shown treading a road lined with economic, cultural and social obstacles. Still, enough inroads have been made that merit its exposure to more readers, especially the coffee-drinking type.
Surprisingly, some of the hindrances come from farmers, who find themselves confronted with a new set of problems as captains of their own businesses. The article discusses how Fairtrade depends as much on the farmers' cooperation as it does on the willingness of big businesses to absorb the costs to make coffee a fair trade.
But between big businesses and farmers, it's the consumers who can make Fairtrade a success. The article presents some of the "little" things they can do to support Fairtrade, even as more coffee house companies see the label as a trusted marketing and public relations material that can give them an ROI. Time and again, consumers have shown how much power they wield to make a difference and Fairtrade is but one arena.
More details on the success of Fairtrade, as well as its current obstacles, can be gleaned in "Why Fairtrade Should Matter to You" an article published by FinancesOnline.com.