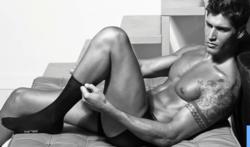 Men are much more discerning about their socks.
(PRWEB UK) 21 March 2013
There is perhaps no other single item of everyday wear than socks that men are demanding more wear from than before. As people spend more time on their feet by working longer days and using their cars less in a bid to save the pennies, men are recognizing the long term benefits of investing a little bit more in technically advanced socks.
Jane, owner of Giggleberries.co.uk says, "Men are much more discerning about their socks and prefer ones that have much more to offer as they expect more from them".
Advances in synthetic microfibers, micro modal fibers, as well as developments in production and treatment processes, such as mercerized fibers means men's socks have become far more advanced.
"Once there was very little to set socks apart from one another, other than cotton for summer, wool for winter and what colour they were, but now there is a mesmerizing array of technical selling points, such as the type of yarns used and the process in which they are produced", says Jane.
Such advancements means men not only have a choice of stylish designer socks for every occasion, but can buy socks that have hidden benefits like anti bacterial qualities and fabrics that allow the foot to breath whilst moisture is wicked away from the skin. Consequently, socks last longer, are kinder to the skin and much comfier to wear.
"However, it is not just consumer demand that forces the development in modern socks", adds Jane, "We now live in a time when manufacturers are expected to use processes that are kinder to the environment, and so we are seeing an increase in socks produced from sustainable sources, such as bamboo and milk fibers used in HOM socks - yes I did say milk!".
Clearly, socks have come along way, which must be a good thing, especially if it benefits the environment. Equally, men are becoming more astute about the qualities their socks offer and manufacturers are responding to this in much the same way as they have with men's underwear.
The philosopher Socrates once said, "To him whose feet hurt, everything hurts", which perhaps sums up why men are now opting for much comfier and beneficial mens socks rather than picking the cheaper supermarket alternative.
Company Bio
Giggleberries.co.uk is an online retailer of men's underwear and men's socks from leading designer brands; Body Art, Bruno Banani, Bum Chums, Clever Moda, Corgi, HOM, Manstore, Pikante, Skiny and Sloggi. Styles available include mens thongs, mens briefs and boxer trunks.
For more information contact Giggleberries at contact[at]giggleberries[dot]co[dot]uk.