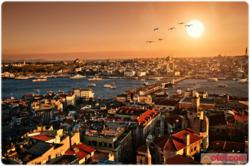 turkey, istanbul (PRWEB) March 23, 2013
The Sultan Ahmed Mosque, the Haydarpaşa Terminal or the Golden Horn… it's impossible to list all the touristic attractions of Istanbul, the city which is the world's tenth most popular tourist destination. 'Taking these into consideration', says Otel.com CEO, 'it is easy to figure out that finding available cheap hotels in Istanbul at this time of the year will be quite a challenge.
However, we have managed to put together a list of hotels which still have empty rooms and come at affordable prices. Those who want to spend their holidays in Istanbul will be more than pleased to hear that usually in these circumstances they can get more than they bargain for'.
The owners of Otel.com announced their visitors that the website now displays a list of all the hotels which offer accommodation discounts. 'This is, in our opinion, the best time to make a reservation: it's not too late, not too early, and hotels are struggling to attract more tourists with incredibly attractive prices', continues the Otel.com manager.
Among the hotels listed on the website, perhaps some of the most attractive offers come from Richmond Istanbul Hotel and Santa Sophia Hotel. The Otel.com CEO is of the opinion that those who go to Istanbul are mainly interested in visiting the historical buildings – here, the historical tourism is flourishing. It is therefore important that all Istanbul beach hotels are situated close to a means of public transport.
For example, the Richmond Istanbul Hotel is a four star hotel situated right in the heart of the city's cultural and entertainment center. On the other side, an accommodation at the three star Santa Sophia Hotel can guarantee closeness to many attractions and landmarks such as Kucuk Hagia Sophia Mosque( Little Hagia Sophia Mosque), Kumkapi and Basilica Cistern.
When looking for Istanbul discount hotels, it is important to take into consideration several factors besides the price of a room. For example, important elements that make a great holiday include the room's facilities, the hotel's features and location and the neighboring landmarks – a hotel which is too far from the city's main touristic attractions might come at a cheaper price. But the effort and time put into getting from the hotel to visit a historical building might not be worth the lower price.
About Otel.com
One of the first things that attract a visitor's attention is the website's user-friendliness. The website is available in more than 20 languages, and a very interesting feature is the possibility of each visitor to see the prices in their country's currency.
People can visit thousands of hotels with only a few clicks and can read customer reviews and testimonials, they have access to a photo gallery with pictures of each hotel and a short description. Each hotel's facilities are listed in an easy to understand manner and the visitor can easily make an idea about whether or not they would like to stay in a certain hotel.
More information about the website, its services and its offers are to be found at the following address: http://www.otel.com/.