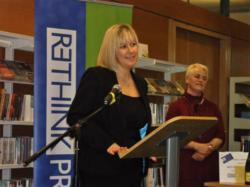 I have learned two important life lessons: never give up on your dreams and always back up your work.
Norwich, England (PRWEB UK) 20 March 2013
Keri Beevis, author of chilling murder mystery 'Dead Letter Day', grew up in Norwich aspiring to be a waitress. Her father had grander ideas and pushed her towards a more glamorous career as an air stewardess (or 'waitress in the sky' as he ingeniously called it), but that plan was never going to get off the ground, given Keri's fear of flying.
She progressed from dreaming of waitressing to... just dreaming. In fact she daydreamed her way through school, caught up in a world of movies and books, and at fifteen found herself with no career plan. She tried many jobs, from a video rental store assistant to the world's worst hairdresser, an entertainment agent, a caricaturist and an administrator for a travel firm. The one constant through all of these jobs was a love and a need to write.
Aged twenty, Keri wrote her first novel and bombarded every publisher and agent she could find: some sent rejections; others told her she had potential and to persevere. Four more novels followed and more rejection letters. Then there was a brush with an unscrupulous publisher which made Keri famous for a week – but not in the way she wanted. Another apparent break with a top agent and an 'almost-deal' with a major publisher also ended in rejection. Keri was convinced her dreams were over.
Fast forward to 2012 and the Rethink Press New Novels Competition. Keri almost didn't enter – she had lost two thirds of the Dead Letter Day manuscript from her computer and only had a paper copy. Taking a chance, she submitted the first 10,000 words and rallied family and friends to help retype the rest of the book. Their efforts paid off as the novel won the Runner Up award and a publishing contract with Norfolk-based publisher, Rethink Press.
Keri says, "I have learned two important life lessons: never give up on your dreams and always back up your work."
Dead Letter Day proves she has a vivid imagination: although Beevis works for a travel company, and has been to America on holiday, she has never lived in the USA where 'Dead Letter Day' is set. With the help of US-based friends, she has created a realistic fictitious town in Oregon, USA, and a grizzly history for Juniper College: in 1989, the Alphabet Killer, Professor Rodney Boone, murdered eight students. The victims – 'A' to 'H' were each found with their surname initial carved into their neck. Victim 'I' narrowly escaped the killer, leaving him to burn to death. Eight years later, rookie police officer Rebecca Angell, is thrown headlong into assisting an FBI investigation when a body is found floating in the sewer with the initial 'J'.
The Competition judges – two novelists, the Literary Editor of the Eastern Daily Press, and a Programme Manager of Writers' Centre Norwich – said that Keri Beevis had "a gripping style and good grasp of narrative structure," and that Dead Letter Day was "pacey and easy to read".
Keri says: "I grew up on a diet of horror and suspense, inspired by Alfred Hitchcock and John Carpenter, and quickly learnt that psychological build up is far scarier than blood and gore. The mind is a powerful thing and can conjure up worse images than what is seen on screen or given away too early in a book. It's the sense of unknowing that can give the best scares and keep you on the edge of your seat. My goal as an author is to create page turners, with engaging characters, fast-paced plots, plenty of twists and turns and hopefully a few chills along the way."
Keri Beevis may never have achieved her dreams to become a waitress, but the initial response to 'Dead Letter Day' means she may now achieve her dream to become a best-selling author.
'Dead Letter Day' (ISBN 1781330565) is available worldwide in paperback and on Kindle.
ENDS
***
EDITOR NOTES
Rethink Press is an independent publisher based in Norfolk, which started publishing unique fiction and niche titles in 2012. The Managing Editor is Lucy McCarraher, herself a published author of fiction and non-fiction books. Her first novel, Blood and Water, was published by Macmillan New Writing after being shortlisted in the Richard and Judy How To Get Published novel competition. Rethink is affiliated to Bookshaker which has been successfully publishing self-improvement and business titles for the past ten years.
To receive a review copy of 'Dead Letter Day' or to speak to Keri Beevis, please contact Lucy McCarraher on 07867 781691
Learn more about Keri Beevis at http://www.facebook.com/allaboutbeev or follow her on http://twitter.com/keribeevis