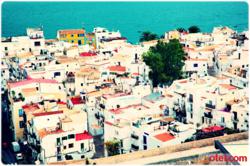 Ibiza (PRWEB) March 22, 2013
Summer is just around the corner and the majority of those who are looking forward to spend an amazing summer holiday abroad have probably already booked their trips in advance. For those who are still waiting for the best deal, maybe an offer for cheap hotels in Ibiza could be just about the thing they have been looking for.
The island of fun, electro and house music and young tourists – Ibiza – now comes at very affordable prices thanks to the new offers from Otel.com.
Everybody talks about their great holidays in Ibiza, but few venture to talk about how difficult it was to find accommodation at affordable prices. 'This is because people usually book their rooms in advance' says Otel.com and Met Global spokesperson, 'sometimes even 5 or 6 months before they are due to arrive.
Therefore, it becomes increasingly difficult for those who want to book a room only a couple of months before their departure'. Nonetheless, on Otel.com visitors are offered the best deals on a varied range of Ibiza hotels.
One of the hotels which are part of this offer is San Remo Club Hotel. The three star hotel offers more than first meets the eye: a blue water pool, soothing scenery and relaxing landscape and the promise of a holiday that will meet the expectations of a first comer.
Marco Polo is another three star hotel where people can find the entertainment they are looking for. 'Being 12 kilometers away from the city centre', says Otel.com CEO, 'the location is perfect for those who want to be at just about the right distance from the island's wildest parties. Ibiza is well known for its wild nightlife, but sometimes I believe it is important to know that you can have fun all night long and then, as soon as the sun rises and the party is over, you can retreat to your refreshing cocoon, back to Marco Polo I Hotel'.
About Otel.com
The website is owned by the international company Met Global. Met Global has offices all across the world, including Europe, America and Asia. Their continuous struggle to find the best deals for their customers has made them a highly successful tourism company which continues to grow to this day.
When talking about Otel.com, the first thing that catches a visitor's eye is the user-friendliness behind the coding and design. Visitors can choose from thousands of hotels from all across the world, and they can pick up their favorite destination and an affordable accommodation with only a few clicks.
What is more, the website is available in more than 15 languages, among which English, Spanish, French, Hungarian, Portuguese and even Romanian are put at the visitors' disposal. Going on, Otel.com helps its visitors navigate easier through the website's pages and make an idea about the exact sum they will have to pay: the prices are available in as many currencies as there are languages.
For more information about the latest discounts and offers on hotels all around the world, those interested can access the company's official website, http://www.otel.com/.