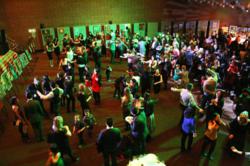 (PRWEB UK) 19 March 2013
On 18 March, more than 500 Azerbaijanis, friends of Azerbaijan, diplomats and representatives of London's diplomatic community celebrated the ancient festival of Novruz at Kensington Town Hall, London. The celebration was organised by The Embassy of the Republic of Azerbaijan to the UK, The European Azerbaijan Society (TEAS), the Dirchelish (Revival) Youth Social and Psychological Rehabilitation Centre (Baku) and Azerbaijan House Culture and Friendship Centre.
The main part of the evening comprised a reception for an exhibition of over 100 artworks painted by the young artists in the Dirchelish (Revival) Youth Social and Psychological Rehabilitation Centre, depicting representations of Azerbaijani legends and their homeland.
Initially, Sabina Rakcheyeva, Cultural Advisor, TEAS, welcomed the guests. Then H.E. Fakhraddin Gurbanov, Azerbaijani Ambassador to the UK wished all those in attendance a happy Novruz, and explained the significance of the celebration within Azerbaijani culture.
Following this, Councillor Lady Borwick, Deputy Mayor of the Royal Borough of Kensington and Chelsea, expressed her delight at being involved in the 2013 Novruz celebrations. The speeches concluded with comments from Islam Bakhshaliyev, Director, Dirchelish Youth Social and Psychological Rehabilitation Centre, who thanked the organisers for the event, and drew parallels between 'together we are stronger' – the motto of the Royal Borough of Kensington and Chelsea – and that of his organisation. He then presented Ambassador Gurbanov and Sabina Rakcheyeva with the certificates of his organsation.
This was followed by some traditional dances performed by the young students from the Caspian Khazri School.
Music plays a prominent role in all Azerbaijani celebrations, and Babek Tebrizi performed some folk songs for the audience, accompanying himself on the saz (traditional lute). Farhad Nishat, the London-based tenor, followed this with a series of operatic arias, the purity of his voice delighting all those in attendance. The evening culminated with dancing to a varied mix of music, both contemporary and traditional. A range of Azerbaijani food was served to all guests.
Although the origins of Novruz remain shrouded in mystery, predating the advent of Christianity and Islam in Azerbaijan, the festival is generally recognised as celebrating the New Year and the time of rebirth at the start of spring. In Azerbaijan, this festival for all the family is celebrated with a five-day Public Holiday, and symbolic acts include tree-planting, egg-painting, and the making of such pastries as pakhlava. Samani (wheat grass) normally forms the centrepiece of the festive table.
During the 75 years of Soviet rule, Novruz celebrations in Azerbaijan were unofficial and frequently suppressed. However, since the regaining of Azerbaijani independence in 1991, Novruz has become synonymous with the identity of the nation.