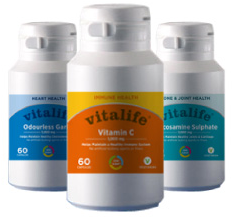 We wanted to create a range of vitamins and supplements that were genuinely good for you
Rotherham, South Yorkshire (PRWEB UK) 19 March 2013
Vitalife's new range of vitamins and minerals feature no artificial or highly-processed fillers or bulking agents - allowing the active ingredients to be easily and fully absorbed by the body.
Magnesium Stearate, one of the most common additives in supplements, has been found in some studies to affect the absorption of the active ingredients - given the difficulty the body has in breaking-down this substance.
Vitalife have therefore banned this ingredient, along with all other artificial or highly-processed fillers and bulking agents, from their range.
'We wanted to create a range of vitamins and supplements that were genuinely good for you' explained Gavin Edley, Vitalife's Managing Director, 'ingredients like Magnesium Stearate are often derived from pork and other animal fats - not necessarily an ingredient you would like to find in a health supplement. But the reality is that this is found in most supplements on the market' he continued.
'We use none of these ingredients in our range, opting for no fillers and bulking agents at all where applicable, and where this is not possible, we use natural rice flour as the only additional ingredient to the active substance'.
Vitalife launch their first line-up of vitamins and minerals in mid-April, with more due to launch throughout 2013, but they have already made their initial line-up available for pre-order online at https://www.vitalifehealth.com for a 20% pre-order discount.
The move strengthens Vitalife as a broader and more robust brand in the health product market, outside the niche of specialist teas in which they were first established.