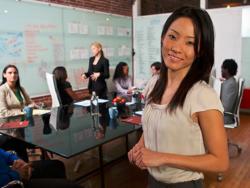 Public speaking is a significant challenge for a large majority of individuals.
Robbinsville, NJ (PRWEB) March 20, 2013
Public Speaking Made Simple: How to Overcome Your Fear and Speak With Confidence just released. Top-selling author and public speaking expert Michael H. Fleischner has published another title in the "Made Simple" series of books, ebooks, and websites.
This new guide reveals how anyone can overcome the fear and anxiety often associated with public speaking and present with confidence. The ground breaking guide includes real-world strategies and techniques that meet the needs of individuals speaking in front of live audiences and with web conferencing software, especially those from generation X and Y who may not have acquired the skills they need to be successful in today's job market. Michael's other published titles have sold more than 10,000 copies and remain on top of Amazon.com's book rankings.
As individuals continue to depend on effective speaking and presentation skills to improve their careers or succeed from a social perspective, the importance of effective public speaking has never been greater. Many individuals lack the confidence they need to speak in social settings thanks to the reliance and over dependence on technology to communicate with others.
It is well known that public speaking is a significant challenge for a large majority of individuals. One source claims that three out of every four individuals suffer from speech anxiety. Public Speaking Made Simple reveals proven strategies used by the author and other speakers to communicate effectively even in the most challenging circumstances.
"People are spending so much time interacting through mobile devices, they have forgotten or failed to develop the much needed speaking skills required to advance their careers. There was a time in my life where I was unable to speak in front of others and it hurt my self-esteem and ability to succeed in my professional career and personally when interacting with others," says Michael Fleischner, the book's author. "Overcoming the fear associated with presenting and speaking to others is the key to success in many areas of your life."
Michael has appeared on the TODAY Show, ABC World News, and Bloomberg Radio. His presentation skills started to develop after spending time in Toastmasters™ and making a variety of presentations during his career in business development. The guide provides specific techniques that are not commonly shared by leading speakers including the use of mindful rehearsals, effective breathing techniques, and exclusive preparation methods, and strategies for writing presentations.
Public Speaking Made Simple taps into an individual's belief system, helps re-frame anxiety, and provides detailed strategies to prepare any speech or presentation. Powerful lessons from effective speakers are shared and presented in simple terms that help individuals overcome un-supportive habits and knowledge gaps that hold them back.
According to Mr. Fleischner, "One of the reasons people struggle with speaking is because they set unrealistic expectations of themselves. Not everyone is a Tony Robbins and most people don't expect us to be but some carry around lofty expectations that create anxiety and poor performance. Getting a clear picture of the desired outcome is healthier and can support the goal of speaking more confidently."
Public Speaking Made Simple is designed to help anyone with a desire to improve their public speaking and presentation performance. These techniques have been proven effective and highly sought after. To get your own copy of Public Speaking Made Simple visit Amazon.com or http://publicspeakingsimple.com.