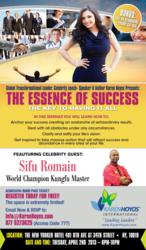 Today is the perfect day for you to get out of your comfort zone and follow your purpose!- Karen Hoyos
New York, New York (PRWEB) March 22, 2013
Transformational speaker Karen Hoyos and world champion Sifu Romain will share with the participants of this event extraordinary tools to take their lives and businesses to the next level. The night will be a perfect combination of growth and great networking.
Some of the topics covered will be:
Clarifying your life's purpose.
How to create an avalanche of extraordinary results.
Overcoming obstacles.
Attracting success and abundance in every area of your life.
Finding your source of inspiration.
About Karen Hoyos:
In 2009 Karen Hoyos was chosen as one of the seven most inspiring women in the United States second only to singer Shakira by international magazine "Siempre Mujer". Karen is often featured as an expert guest on networks such as NBC, Telemundo, Univision, E! Entertainment Television and CNN. She personally coaches Hollywood celebrities.
As a survivor of domestic violence and her rise to becoming one of the top speakers in the world,
Karen will speak about her remarkable story of triumph over adversity.
About Sifu Romain:
Sifu Romain, is known as Dr.Oz's tai chi instructor and is a world champion kungfu master. His television appearances include: Oprah, Dr. Oz, NBC 1st Look, ABC-TV News and Fox National News.
Sifu Romain has authored two books Legendary Longfist and The Self-Confidence Factor: A Parents Guide to Bully Prevention. He has co-authored two books with Dr. G.Steve Kinnard, The Cross and The Warrior and The Shaolin Athlete. Sifu will share with you the how he overcame injuries in a serious car accident to become a world martial arts champion and his rise to success working with celebrities and professional athletes.
Register today, space is limited contact info(at)karenhoyos(dot)com or call 877.527.3625 access code 777