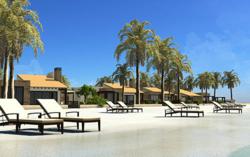 Buy land, they're not making it anymore. - Mark Twain
Poole, Dorset (PRWEB UK) 22 March 2013
Strategic land investment– acquiring land and holding it for future use – has become an increasingly attractive option of late. Land is a solid, real asset which is also a finite resource and the inexorable growth of the global population has meant that historically the value of land has always increased. Unlike property investments, land comes with no hidden charges or on-going costs, which is why a growing number of people are choosing to look to land abroad to invest their hard-earned cash.
Unfortunately however, there are organisations that try to work within the industry that may not do as they promise with the money they receive from investors. That's why Select Resorts are encouraging those looking to invest in land work with established and reputable companies that will ensure clients receive the yields and returns promised – with no hidden costs or loopholes.
Pauline Bonnani, Select Resorts Managing Director, is encourages those looking to invest in land abroad to do their research prior to investing.
"Overseas land investment proves itself to be a lucrative venture time and time again; however we do recommend investors proceed with caution. Having been in the industry for over thirty years we have seen a lot of interesting opportunities arise and as a result ensure all our projects are put through a stringent due diligence process prior to launch. This is so we can be confident that the development is legitimate."
Select Resorts works in close partnerships with some of the world's major property developers and agents. Its reputation as an expert in overseas property and its responsiveness to fluctuating global conditions are factors behind its success.
One of the company's established partnerships with Crown World has led to the development of an exciting portfolio of land opportunities in a variety of locations across the globe.
Their favourite developments are in the Cayman Islands, Ocala, in Florida and Jamaica. All three provide opportunities to escape to the sunshine, but also come with extra benefits.
Crown World's MD, Thomas Harper, explains the philosophy behind their favourite investment opportunities:
"We analyse a huge number of factors when we look at land investment opportunities. As well as examining historical data, we focus on regions which represent excellent value for money for our clients, as well as areas that demonstrate commercial and political factors that look set to drive prices upwards."
"We also seek to ensure that each area offers a little something extra to pique our investors' interest. In the Cayman Islands, for example, our clients can take advantage of zero direct taxation, while in Florida our plots come with full and irrevocable planning permission in one of the most desirable states in the US. In Jamaica, eco-tourism provides opportunities for socially responsible investors."
The Cayman Island development offers low entry level investments that start from just £10,000. Plots come with full residential planning permission and cost as little as 5% of the potential resale price of a completed property. With no obligation to build, purchasers have the flexibility to do as little or as much with the land as they wish.
The Cayman Islands are fast becoming recognised as one of the most financially advantageous investment destinations in the world. Investors and residents benefit from no personal or income tax, no capital gains tax, no inheritance tax, no property tax, no tax on profits from investments and no tax on non-residency. The islands provide economic stability, with low inflation, solid financial growth and a supportive business environment.
Ocala in Florida is another key investment area identified by Select Resorts. Land is available from as little as £25,000 per plot and with full and irrevocable planning permission in place for residential development the opportunity allows investors to take advantage of the distressed American real estate market, with investments available at prices deeply discounted from the open market value.
The principle city of Marion County in north-central Florida, Ocala is home to a blend of business and manufacturing interests, with an aggressive expansion strategy and business friendly environment that are set to secure its place on the international business stage. In the past five years, Marion County's population has expanded by 17.8%, with thousands of new residents attracted each year by the market's healthy economy, excellent quality of life, diverse recreational activities and pristine environment.
With mortgage rates remaining low, an improving employment situation and the business-friendly government of Marion County creating an absence of corporate tax, an average of 560 people a day are moving to Florida. This combination of factors has created an incredible opportunity for investors looking for a low risk, low entry investment with a natural future market.
Michael Reilly, Marketing Director of Select Resorts, is excited about the potential of Ocala:
"The plots in Ocala represent excellent value for investors, as well as minimal risk. The full infrastructure is in place for each plot, along with residential planning permission. Alongside this, we offer an interest free payment plan with guaranteed acceptance and clearly defined exit strategies. All of these factors mean we are able to offer below market valuation prices in an area tipped to experience dynamic growth over the next few years."
Finally, Jamaica is another key area in which Select Resorts is excited to offer land investments. The 12,000 sq. ft beach plots, near the world famous Somerset Falls at Port Antonio, are set to be part of Jamaica's developing centre of eco-tourism. The recently constructed marina and stunning natural beauty of the area provide a backdrop that not only looks wonderful, but also provides a strong market for purchasers looking to make more eco-friendly land investments.
The finite availability of land and the fact that Select Resorts and Crown World are offering investment portfolios in such carefully chosen and attractive destinations have created some of the most solid and potentially lucrative strategies in the current market. Land is one of the investment options that is most resistant to economic instability, leading to strong investor interest in this market. As American writer Mark Twain so wisely advised: "Buy land, they're not making it anymore."
Anyone looking to invest funds into land abroad should contact Select Resorts. The dedicated and passionate team will offer the service one would expect from a company giving expert advice on a vast range of international property areas to assist in reaching more profound decisions on purchasing overseas property.
As the only UK based associate of Savills International, and registered with the AIPP (Association of International Property Professionals) these investment specialists offer in-depth knowledge and experience to meet the needs of overseas property and land investors.
For more information on Select Resorts, telephone +44 0-120-276-5011, email sales(at)selectresorts(dot)co(dot)uk or visit http://www.selectresorts.co.uk
For more information on Crown World, telephone +44 0-845-680-9988, email info(at)crownworld(dot)com or visit http://www.crownworld.com