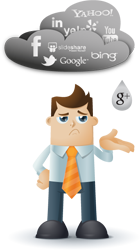 Effective online reputation management is always a combination of action and reaction.
Charlottesville, Virginia (PRWEB) March 20, 2013
It is crucial for companies to learn how to proactively monitor their brand mentions online, understand the steps to take in a crisis, and rebuild their reputation in the aftermath. Find out how to create an online reputation management plan to ensure your company is seen positively by potential customers in the upcoming webinar, "Monitoring, Managing and Maintaining Your Company's Online Reputation." The free webinar,which will be held Thursday, March 21, 2013 at 2:00 p.m. ET, will be presented by:

"With the ease of leaving feedback online today, unhappy customers have straightforward yet far-reaching methods to vent their frustrations. This can leave companies vulnerable to brand attacks online, and often these negative commentaries can have long lasting effects," said Miller.
Beal added, "I plan to outline the critical first steps that must be taken before starting any online reputation management campaign and then share the tools you can use to get the job done."
"Effective online reputation management is always a combination of action and reaction," said Gatewood. "I will discuss the best way to react, including damage control, common legal claims and the pursuit of legal remedies that may be needed in the worst cases."
"Finally, for times when you can't just have the offending comments and website pages removed, I'll review the steps to take after a crisis to rebuild a company's online reputation," concluded Miller.
Marketing, communications and brand professionals are encouraged to attend this webinar. Sign up for the online reputation management informational webinar at http://www.search-mojo.com/ORMWebinar.
About Search Mojo
Recently ranked on the prestigious Inc. 5000 list as one of the fastest growing businesses in America, Search Mojo specializes in search engine marketing, social media advertising, content marketing and analytics services. Founded in 2005, Search Mojo uses the latest information and techniques to help companies improve their conversions and lead generation through search and social tactics. Learn more about Search Mojo at search-mojo.com or read our blog, Search Marketing Sage, at blog.search-mojo.com.
About Trackur
Founded in 2007, Trackur has helped more than 60,000 businesses and individuals to monitor their reputation with sophisticated and easy-to-use social media monitoring tools. You can learn more about Trackur at trackur.com.
About Threshold Counsel
Chris Gatewood founded Threshold Counsel, PC in Richmond where he works as outside general counsel for companies small and large, with a focus on their IT and intellectual property needs. Chris has a broad range of experience in technology, software, and internet law, social media matters, reputation management, licensing, trademark, and copyright matters. He went to Wake Forest and the U.Va. School of Law.