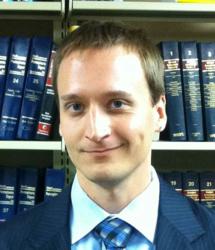 This year, you must file your income tax return or request an extension by April 15th.
Bethlehem, PA (PRWEB) March 31, 2013
Attorney Leonard J. French is pleased to offer full-service tax preparation to taxpayers in the greater Lehigh Valley area (Allentown, Bethlehem, Easton, and beyond). The service comes just in time, too, as taxpayers have until April 15th to file their returns or request an extension.
For those who have waited, Mr. French is offering to take the majority of the burden by providing tax preparation services. Appointments are available by calling 610-537-3537 or visiting http://www.leonardjfrench.com.
Mr. French's rates are very competitive with other tax preparers.
Taxpayers will benefit from knowing what records to keep. Attorney French has over five years of experience and has prepared hundreds of returns. Mr. French will ensure that your refund is maximized, your tax burden is minimized, and your situation is accurately reported to the IRS.
Some common situations:
1. Homeowners should keep track of their real estate taxes, mortgage insurance, and mortgage insurance premiums for itemized deduction on Schedule A.
2. Students should keep track of their education expenses for education credits on Form 8863.
3. The elderly and disabled should check their tax documents for any federal and state withholding which might be eligible for a refund. Also, elderly or disabled homeowners and renters may qualify for Pennsylvania's Property Tax and Rent Rebate program (PA-1000) and should keep track of their real estate taxes or rent paid, respectively.
4. Anyone who is self-employed or has received a 1099-MISC will likely need to file a Schedule C for self-employment income. Taxpayers in this situation should be sure to keep track of business expenses as well as keep a written log of business-related vehicle mileage.
5. Anyone with investment income or sales of property will need to record their income, gains, or losses, on Schedules B or D. Taxpayers should have received 1099-INT, 1099-DIV, or 1099-B.
Mr. French will ask about other tax situations taxpayers may be in. Taxpayers are encouraged to bring all tax documents they've received via mail or email as well as any other documents that may be helpful.
About Attorney Leonard J. French
A Bethlehem native, Attorney French focuses the remainder of his practice on areas of high-tech and internet law, including areas of copyright, trademark, and business law.
In the past year, Mr. French has defended dozens of individuals who have been sued in a wave of copyright infringement claims.
For more information, please visit http://www.leonardjfrench.com.